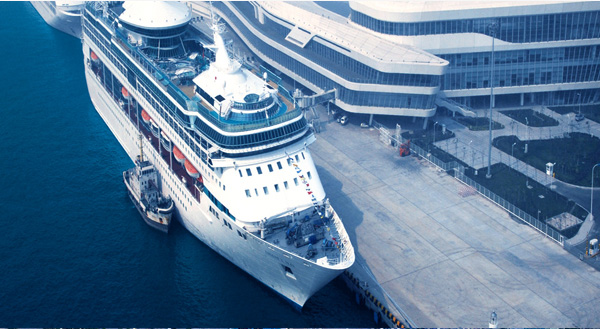 Mayview Maersk, the world's largest and most advanced container ship, arrived at the Pacific International Container Terminal in Tianjin Port in July. [Provided to chinadaily.com.cn]
With its advantages in location, Tianjin Binhai New Area expected to build itself into another power house in China, like the Shenzhen special economic zone and Shanghai's Pudong New Area.
Located at the center of the Circum-Bohai Region and the eastern seaboard of Tianjin, Binhai boosts great transportation systems with the first intercity high-speed rail between Beijing and Binhai, the largest freight airport in North China and the fourth biggest port in the world.
Tianjin Binhai New Area covers seven major industry functional zones and a comprehensive trade port, including Tianjin Port Free Trade Zone, Tianjin Harbor Economic Area, Tianjin Binhai Hi-tech Industrial Development Zone, Tianjin Economic-Technological Development Area, Dongjiang Free Trade Port Zone, Sino-Singapore Tianjin Eco-City, Tianjin Binhai New Area Central Business District and Tianjin Port.
The industrial output of the area reached 802 billion yuan in 2013, compared with the figure of 381 billion yuan in 2009. That's a one-year increase of 21.6 percent.
As President Xi Jinping called for integrated and coordinated development of the Beijing-Tianjin-Hebei region in February, many famous companies, such as Ganji and Ikea, decided to transfer key business to Tianjin.
In the first half of this year, Tianjin Binhai New Area attracted 104 projects from Beijing and 52 projects from Hebei province.
Three small and medium-sized technology enterprises in Binhai New Area won seats to attend the ongoing 2014 Summer Davos, together with entrepreneurs and business elites from the world's top 500 enterprises.