Mayview Maersk, the world's largest and most advanced container ship, arrived at the Pacific International Container Terminal in Tianjin Port in July.
It was the ship's first commercial journey.
The Tengfei, a roll-on roll-off - or ro-ro - ship owned by China's COSCO, also made its first berth in Tianjin Port in the same month.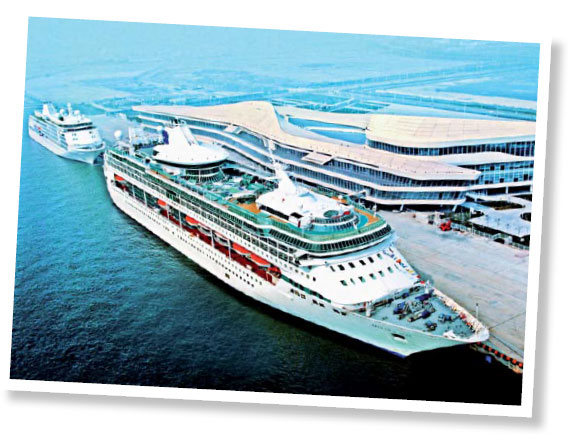 Tengfei was the first ship in China to be equipped with a solar-hybrid power system and 690 Volkswagen vehicles were unloaded from it at the port.
Tianjin is the main shipping hub in North China.
The port's cargo throughput is expected to reach 530 million tons this year, an increase of 6 percent from 2013, according to Tianjin Port (Group) Co Ltd, the port operator.
The port is expected to handle 14 million containers and generate revenue of 35 billion yuan ($5.69 billion).
The port operator said Tianjin Port would help promote regional economic development by expanding its services into inland areas. The port has plans to expand services and facilities to link neighboring Beijing.
The operator said the development of Dongjiang Port Zone - part of Tianjin Port - was also expected to reach a new stage this year, with an emphasis on functional areas such as finance, trade, shipping, logistics and tourism.
To attract tourists, a cruise port was built at the southern tip of Dongjiang Port Zone, which began operations in June 2010. It has hosted a number of luxury cruise ships including Ocean Princess and Diamond Princess.
The latest arrival was Victoria, a luxury cruise ship owned by Italy's Costa Crociere that berthed at Tianjin cruise port for the first time on June 4, with 1,600 passengers.
The Victoria is 253 meters long and 32m wide. The 75,166-ton ship can carry 2,390 passengers and 790 crew members at full load.
Costa Crociere is now using Tianjin as the home-port for its liners and berthed nine ships in the city last year. This year, the company plans to run a special tour of Japan and South Korea from June 4 to Oct 25, and Tianjin will again be the home-port for the route.
Royal Caribbean's Voyager of the Sea has also used Tianjin as its home-port for three years. The company started this year's trips on June 26, with 3,840 passengers and 1200 staff. A further 16 round trips will run until Sep 10.
Voyager of the Sea is one of the 10 biggest cruise liners in the world and the biggest operated in Asia. The 138,000-ton ship is 311m long and 47m wide. Onboard facilities include swimming pools, a football field and theaters.
Two domestic companies, HNA Cruise and Bohai Ferry, said they also plan to use Tianjin as their home port for international trips in the near future.
The move would make Tianjin Port the only one in China to offer home-port services to four cruise companies from home and abroad.
The Tianjin Port Group said it would provide convenient services for the passengers.
The company has opened a one-stop service center for passengers and expanded the area of its duty free shop to meet increasing demand during the peak season.
Contact the writers through baowanxian@chinadaily.com.cn