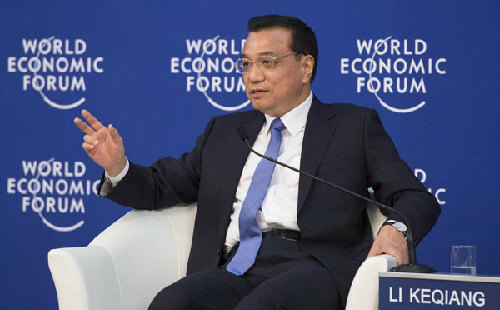 Chinese Premier Li Keqiang speaks at a Q&A meeting with foreign corporate leaders in Tianjin, Sept. 9, 2014. [Photo/Xinhua]
Only 10 percent of the total number of companies being probed by Chinese antitrust authorities are foreign enterprises, Premier Li Keqiang said on Tuesday, dismissing speculation that foreign companies are being targeted.
Li, speaking at a Q&A meeting with foreign corporate leaders in Tianjin, reassured the attendees that China's door remains wide open to the world.
"I feel concerned that you are actually concerned," Li told the leaders, most of whom were heads of multinationals. "China's door has opened, and it will never be closed again."
He said the increase in probes is one result of improved administration.
"We improved the transparency of government supervision to restore the fairness of the market," he said. "But some of our efforts have been misinterpreted."
Li said the supervision efforts, including antitrust probes, are legal, transparent and fair, which will benefit China's opening-up and make more foreign investors willing to come to China in the long term.
"Whatever problems you've encountered in China, I hope you'll raise it directly to the government. We are willing to create an enterprise-friendly business environment," he said.
China's antitrust authorities initiated rounds of probes in July. Most major global automakers, including General Motors, BMW, Audi, Mercedes-Benz, Jaguar Land Rover, Chrysler, Toyota and Honda have been looked at.
Twelve Japanese auto suppliers were fined a total of 1.24 billion yuan ($201 million) by the National Development and Reform Commission for manipulating prices.
The European Union Chamber of Commerce in China said in August that although antitrust law is "beneficial for developing a healthy market economy in China", the organization had a number of concerns about the recent moves.
"In some of the industries under investigation, domestic companies have not been targeted for similar violations. Furthermore, in some cases that involve joint ventures, it has only been the foreign partner that has been named as being a party to the investigations."
In a similar move, the American Chamber of Commerce said in September that most of its members feel less welcome than before in China and almost half believe foreign companies are being targeted in the country's latest antitrust drive.