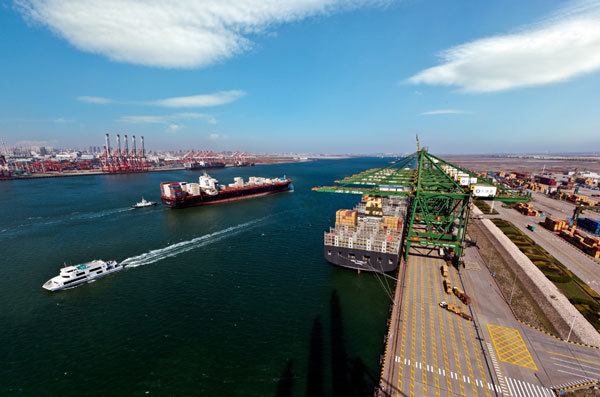 The busy Dongjiang area in Tianjin Port, Tianjin municipality [Photo by China Daily]
Tianjin Port Group recently released an implementation plan for its key project, Beautiful Port, to improve the environment in Tianjin Port, a sea port in Tianjin municipality.
The project will be implemented in four stages. The project will work to improve air pollution, clean the channel and port area, and plant trees. The group hopes to complete the project by the end of 2017 as part of an effort to upgrade the port area's industrial optimization and economic growth.
In terms of air pollution, the group will pay special attention to air pollution control in the port area, including construction dust, road dust, and coal pollution. The project will also promote the establishment of an emergency action system to respond to severe air pollution incidents.
The port channel cleansing campaign aims to upgrade port water to protect the water eco-system by means of sewage treatment, water re-use, rain collection and seawater desalination. The port will also make better use of water resources and improve its capability to deal with oil spills.
The group wants to improve the environment and environment protection facilities in the port area. It will also launch more afforestation projects to develop the greenbelt area, such as lawn maintenance and bare land reforestation, in hopes of raising the port's green area rate to 15 percent by 2017.
Edited by Michael Thai