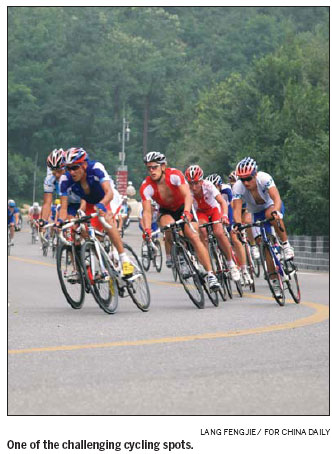 Government officials in Yanqing county have be
en getting on the bandwagon and trying to boost their county's image as a cycling center.
They started in 2010 with eight cycling routes that link scenic sites with hotels, villages, and pick-it-yourself orchards to combine sports and leisure. Each route is clearly demarcated with signboards and comes with a map.
They have also set up more than 30 rental spots across the county, which provide 2,000 bicycles of various kinds, to meet different demands.
"Yanqing has many geographic advantages for cycling," the officials have said.
"The slopes and curves are great for bicycle riding."
The county was also chosen as the venue of the cycling competition at the 2008 Beijing Olympic Games.
Ideal environment
Yanqing is now a State-level ecological demonstration zone, and 72 percent of the area is covered with trees and grass. It also has exceeding 10,000 hectares of wetlands, or more than 5 percent of the total area.
It now calls itself a large natural oxygen bar and the "Disneyland" of cycling.
The county is also proud of its scenery, officials have said, "We've built nine parks and developed 30 tourist sites. And riders can enjoy sightseeing and sporty exercise, all at the same time."
Road network
Yanqing in the recent past has increased spending on infrastructure to crisscross the area with a road network.
"We've built 300 kliometers of roads suitable for bicycle riding. The flat route along the riverside is enjoyed by the elderly and juniors, while the roads in the mountainous northern part require better cycling skills," officials said.
"The northern route also passes through many fruit parks. Enjoying blossom flowers and picking fruits make the cycling tour even more interesting."
There are also interconnected village paths and roads under construction, which, when they are completed, will make riding from village to village and scenic spot very convenient.
Diverse activities
Playing host to the Olympic cycling event bought Yanqing more opportunities to host other events, and some large professional cycling teams have chosen it for their training.
Recently, the local government has been hosting annual cycling tours and has attracted hundreds of participants.
The county has its own cycling association, founded in 2007, with more than 300 members who ride all over the county.
(China Daily 06/09/2011)