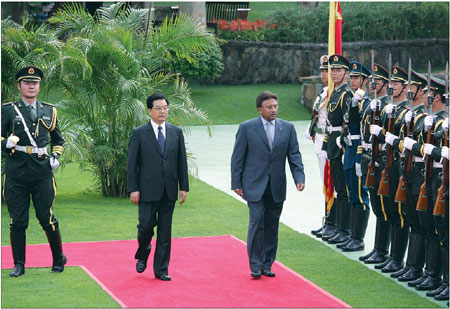 President Hu Jintao received visiting state leaders in Sanya In 2008, the first time for such an event to be held outside Beijing. Wu Zhiyi / China Daily
Jiang Sixian (left), vice-governor of Hainan province and Party secretary of Sanya, visits Lars-Ake Skager (center), former deputy mayor of Gothenburg, Sweden, who now lives in the resort city. Chen Wen / for China Daily
It took Sanya 25 years of hard work to build itself into a world-class tourist resort; no small feat when people consider that it was nothing more than a poor fishing village, according to Jiang Sixian, vice-governor of Hainan province and Party secretary of Sanya city.
Today it covers a 28.3-square-kilometer area, 11 times the size it was back in 1987. And it has 180 star-rated hotels, incredible compared to the two hotels it had back in 1987.
But, Sanya has been on a fast development track for some time after its administrative status was changed from county to prefecture. Its GDP has been growing at a rate of 15.6 percent annually, and annual urban incomes at an average of 13.8 percent, with rural ones at around 12.4 percent.
Its economic structure differs from that in the rest of China, with tertiary industry making up the largest portion. It accounted for 53.7 percent of the economy in 2008, while first-tier industries took up 21 percent, and secondary ones, 25.3 percent.
Tourism has seen a 20 percent growth rate on average, with a modern structure in place, with tourism and trade at the core, complemented by the maritime and real estate industries.
Sanya's air quality reaches the "excellent" standard over 320 days a year, and its sea water quality is among the best in the world.
The lives of Sanya's rural people have improved considerably and they now have access to insurance and infrastructure that were previously only available to urbanites.
The final leg of road construction in one of the most remote places - Red Orient Village - was recently completed, putting six towns more in touch via asphalt roads.
Sanya has also played host to many high-profile international events. From 2003 onwards, it held five Miss World finals, an event that seems to go along with Sanya's stunning beauty.
In 2008, President Hu Jintao received visiting foreign state leaders in Sanya, marking the first time for an event of this kind to be held outside Beijing.
Sanya has also played host to sports events such as the International Beach Volleyball Tournament, Tour of Hainan, and a professional chess competition.
In April 2011, further raising its profile, leaders of the five BRICS countries - Brazil, Russia, India, China and South Africa - converged on Sanya for the Brics Leaders Meeting.
All these events show how the world has come to see Sanya and how far it has come in the space of 25 years - from almost total obscurity to international stardom. Now it's just waiting to take its next step.
(China Daily 06/01/2011 page12)