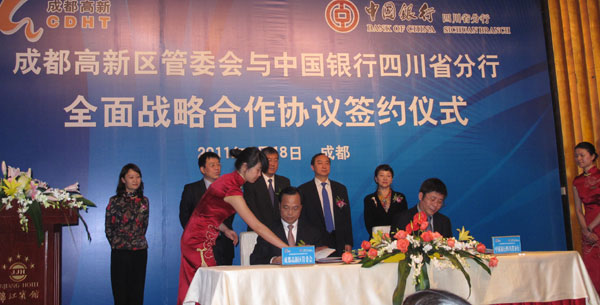 Bank of China Sichuan Branch and Chengdu High-tech Zone representatives sign the comprehensive cooperation framework agreement in Chengdu, Sichuan Province, on Friday. [Photo/Huang Zhiling] 
The Bank of China (BOC) Sichuan Branch signed a comprehensive cooperation framework agreement with the Chengdu High-tech Zone on Friday in Chengdu, capital of Southwest China's Sichuan province.
Under the agreement, the branch will provide the zone with a total of 40 billion yuan (US$6 billion) in financing arrangements in the next five years.
The Bank of China Sichuan Branch will give full play to its advantages in financial services to support the construction of major projects in the Chengdu Hi-tech Zone, and support growing high-tech small and medium-sized enterprises there, said branch president Bai Zhizhong.
In 2010, the Chengdu Hi-tech Zone had two more GEM listed companies. It has 21 listed companies, accounting for half of those in Chengdu.