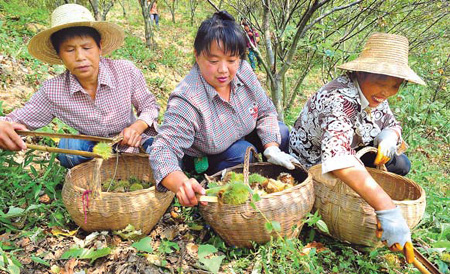 Three women, relocated from the Three Gorges reservoir area to Letianxi town of Yichang, collect Chinese chestnuts on Sept 14. Many resettled people have begun new lives in the town. Zhang Guorong / for China Daily
YICHANG, Hubei - The Three Gorges Dam has been all over the pages of major Chinese media for the past few months and has even caught some attention elsewhere, with the BBC, AFP and other foreign sources giving plenty of coverage to the massive hydroelectric project.
I have been to the area around the dam many times as a Hubei-based China Daily correspondent. And I feel that the people most affected by the massive project have not been given the attention they deserve.
This is based on my experience, especially from interviews, which has left me wondering whether those people's lives will be better or worse after the dam is fully operational. Obviously, there is no simple answer.
From the perspective of Yichang, the city where the hydroelectric project is located, the answer is clear: it has changed completely. The city has become the hometown of people who are proud, a city that is even known in other parts of China or outside.
Xiao Mengting, a college grad who has come back to her hometown after spending two years in a major metropolis, has this to say: "We're so blessed. I think my hometown is a better place to live, with a good environment, low cost of living, and a really popular place."
But for those people who had to move out of the immediate Three Gorges area, life is still a struggle and has hidden dangers.
For one thing, a number of people were moved to much higher ground, but the fear of geological disasters such as earthquakes hangs over their heads.
One of these people, who declined to be named, told me that he has been keeping a flashlight, drinking water and all the valuables under his pillow, close at hand.
"We are ready to escape at any time," he said.
His words revealed the sense of insecurity shared by hundreds of thousands of these migrants.
By the end of 2009, more than 1 million locals, most of them poor farmers, had been moved to make way for the massive project.
Nonetheless, one man surnamed Li told me that although his life is still tough, he is happy to see the project being a huge success.
On Tuesday morning, at a ceremony to mark the completion of the mammoth project, all I could think of was those migrants and what they have given up to support this.
(China Daily 10/27/2010 page3)