Huanggang's newly opened Memorial Museum of Su Dongpo attracts a large number of visitors from home and abroad. Photos Provided to China Daily
The ancient artist and poet is honored in a new museum
Huanggang, in Hubei province, recently opened the Memorial Museum of Su Dongpo (1036-1101), famed Song Dynasty (960-1279) poet, artist, calligrapher, pharmacologist and statesman.
The story of his four years in the settlement of Huanggang is showcased at the Su Dongpo Museum.
Alongside the essential displays and artifacts are several high-tech interactive exhibitions that give the museum's presentation of this ancient character a futuristic twist.
Visitors can row a pair of oars affixed to a stand set up in front of a projector that shows the digitally rendered helm of a boat navigating the waters near a cliff. The simulation allows visitors to pretend they are Su paddling along the river to his home near Chibi.
Near the nautical simulation is a computerized touch-screen display that allows guests to try their hands at replicating Su's calligraphy.
Visitors copy samples that flash on the screen by tracing the characters with their fingertips. Upon completing a line of prose, scribes are scored according to their penmanship.
Specimens of the calligrapher's handiwork hang on the wall nearby as additional reference points for those hoping to get a real feel of how the master manipulated his writing brush.
The museum also has several exhibits of robotic wax figures portraying scenes from the polymath's life. With a hoe in hand, one Su android tells his life story.
Now, Huanggang hopes to capitalize on Su's artistic success.
"We aim to deliver general prosperity to our 7.3 million residents by promoting tourism," said Mayor Liu Xuerong.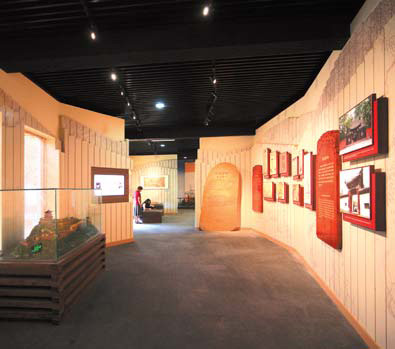 Museum exhibition hall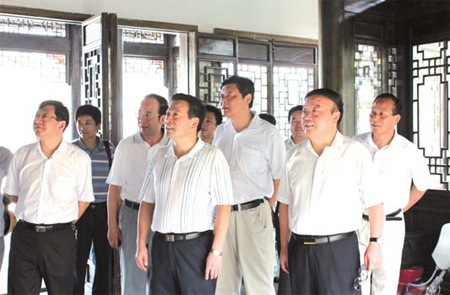 Liu Shanqiao (front center), secretary of the Huanggang Party Committee, visits the city's newly opened Memorial Museum of Su Dongpo.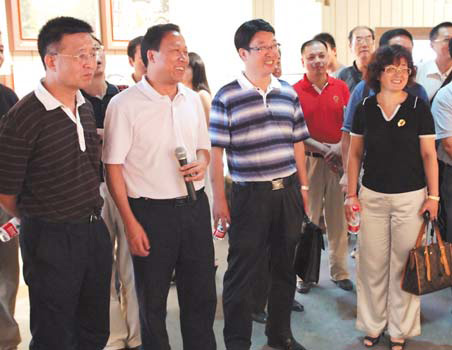 Huanggang Mayor Liu Xuerong (second from left) introduces an exhibit to visitors.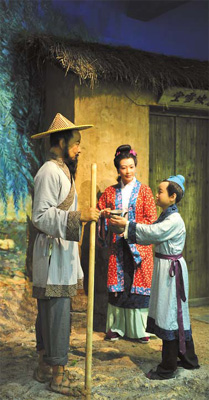 Wax figure of Su Dongpo in the exhibition hall of the museum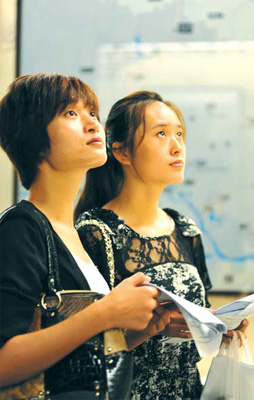 Visitors examine the exhibition carefully.
By Zhuan Ti (China Daily)
(China Daily 09/28/2010 page24)