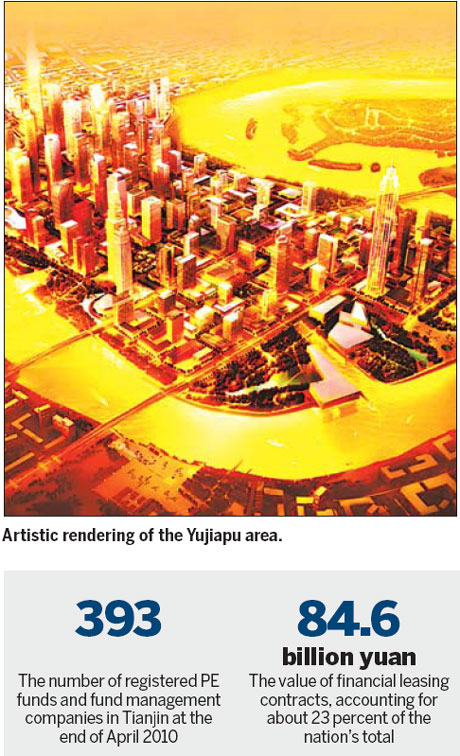 Tianjin is at the forefront of China's financial reform and innovation campaign. The establishment of the Tianjin Climate Exchange, Tianjin Bohai Commodity Exchange, Tianjin Ferroalloy Exchange, Tianjin Equity Exchange, Binhai International Equity Exchange and other innovative exchange markets, have facilitated the growth of the region's financial capital and commodity markets.
The Tianjin Equity Exchange, established in October 2008, is an exchange platform for non-listed companies. After more than a year of operation and exploration, it has developed a financing model for small to medium-sized enterprises. So far, it has raised more than 1 billion yuan for enterprises by means of private equity placement.
Binhai International Equity Exchange, serves as a service platform for China International Private Equity Forum, and was established in October 2008.
Bohai Commodity Exchange, founded in December 2009, has pioneered the continuous spot commodity trading system. In January 2010, Tianjin Ferroalloy Exchange was set up, which is the only one of its kind in the world, and demonstrates Tianjin's capability in financial innovation.
China's first financial assets exchange debuted at the 4th annual China International Private Equity Forum (CIPEF) on June 10 as an integrated financial institution offering multiplex solutions to investing and financing enterprises.
China's first financial assets exchange was co-founded by the China Great Wall Asset Management Corp and Tianjin Government.
Private equity
In 2006, the first Chinese-invested industry investment fund, Bohai Industrial Investment Fund was launched in Tianjin.
Tianjin private equity (PE) funds have helped to improve the capital market system and expand direct financing channels. By the end of April 2010, the number of registered PE funds and fund management companies in Tianjin reached 393, with accumulated registered capital (subscribed) reaching 77.47 billion yuan with more than 40 billion yuan invested in various industries.
This has eased the shortage of funds for SMEs and created momentum for equity investment fund development.
China's first shipping industry investment fund is also based in Tianjin.
Finance leasing
In recent years, Tianjin's finance leasing industry has grown. In the face of great changes in the global economic situation, Tianjin's finance leasing industry has shown vitality.
From 2005 to March 2010, the number of financial leasing corporations increased from two to 11, with registered share capital up from 850 million to 21.3 billion yuan. The balance of financial leasing contracts reached 84.6 billion yuan, accounting for about 23 percent of the nation's total.
Financial innovation
In order to facilitate financial innovation and meet the requirements of the modern financial service system, Tianjin authorities are planning to develop the Yujiapu area into a leading finance center.
Yujiapu is an important part of the central commercial area in Tianjin Binhai New Area. Covering an area of 3.86 million square meters, the area is located on the north shore of Haihe in Tanggu district.
From 2011, a 45-minute train to Beijing will be available, when the Yujiapu station opens.
Planning and constructing the Yujiapu financial service center is a crucial step for the local government to implement the Central Government's decision of developing the Tianjin Binhai New Area.
It has important practical implications for Tianjin as it strives to improve its financial services capacity in order to achieve its aim to become north China's finance center.
By Rong Xiaozheng
(China Daily 06/11/2010 page18)