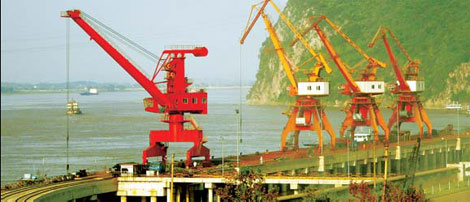 Huangshi Port, one of the top 10 grade-one ports along the middle reaches of the Yangtze River, has become an important logistic center along the river.
In recent years, leading international and domestic enterprises, including G&D from Germany, CETH from France, LVD from Belgium, Marubeni and Kuraki from Japan, SK from South Korea, Pouchen from Taiwan, CITIC Pacific from Hong Kong, Baosteel, Tsingdao Beer, and 999 Medicine have all come to invest in the Huangshi Economic and Technical Development Zone.
The Huangshi Dongbei Electrical Group has the largest production and sales among its competitors in China. The group's energy-efficient compressor technology has reached an advanced level.
The Mailyard Company is a well-known garment manufacturer, with a large market share in Japan.
The company's main product, the Mailyard suit, has received the honor of "China's Top 10 Suits" and a golden quality award from Europe.
The Huangshi Sunny Science & Technology Development Co Ltd is a high-tech enterprise devoted to steel strip technology and equipment. The coated steel sheets produced by the company occupy a market share of more than 55 percent.
The numerically controlled machine tools made by the Hubei Tri-Ring Group's Huangshi Metalforming Machinery Company, a leading enterprise in the city, have been exported to many foreign countries, including Mexico.
Transport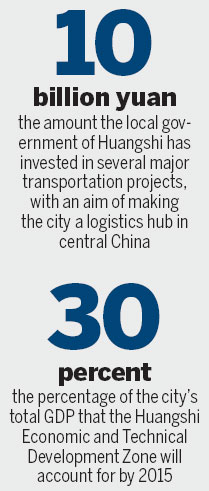 In recent years, the municipal government of Huangshi has invested more than 10 billion yuan in several major transportation projects, with an aim of making the city a logistics hub in central China, particularly in southeastern Hubei and northern Jiangxi provinces.
As a national grade-one port along the Yangtze River, China's major water transportation artery, Huangshi has complete port infrastructure and services. Ocean-going vessels of 5,000 tons can reach the port all year round.
With construction of several expressways and the Edong Yangtze River Bridge, the city has a developed transport network. The Wuhan-Huangshi Inter-city railway, which is under construction, will shorten travel time between the two cities to just 20 minutes.
People
As the second biggest city in Hubei province, Huangshi has abundant human resources, including technicians and skilled workers. The zone is in long-term partnership with some of China's top universities, such as Tsinghua University, Wuhan University and Huazhong University of Science and Technology. The Huangshi Cihu National High-Tech Innovation Service Center has attracted a large number of returned overseas talents and college students.
"The blueprint of building a new Huangshi with a GDP of more than 100 billion yuan depends on the city's ability to attract talent," said Luo Qingquan, secretary of the Hubei CPC provincial committee.
Hu Chao, a member of the Huangshi CPC Standing Committee, and director of the Huangshi Economic and Technical Development Zone Administration said the zone will accelerate its growth by increasing its industrial output by over 40 percent annually. By 2015, the zone's GDP will take up more than 30 percent of the city's total.
(China Daily 05/25/2010 page24)