Curious how swimming sensation Michael Phelps was able to grab eight gold medals at the Beijing Olympic Games? The National Aquatic Center has opened one of its swimming pools to let the public swim like an Olympian.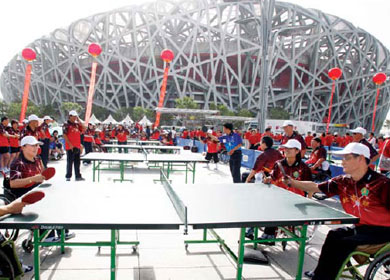 Handicapped people play table tennis in Olympic Green Park on Sunday in Beijing to celebrate the country' seventh National Bodybuilding festival. A total of 10,000 table tennis fans joined the event. [China Daily] 
Since Saturday, hundreds of water lovers from home and abroad have jumped into the warm-up pool at the center, dubbed the Water Cube for its unique blue bubble design.
"The water is much warmer than other public indoor pools and it tasted like purified water," Jiang Yinghui, a middle-aged woman from Beijing, told China Daily after getting out of the pool yesterday.
Swimmers at the Water Cube broke 25 world records during the 2008 Olympics and the pool here is believed by many to be the fastest Olympic pool in the world. Some reports also said the pool water was so clean swimmers could drink it.
Jiang said she did take a sip of the water in the pool but felt she swam a little faster.
"It is much easier to float on the water here," she said.
The warm-up pool is a standard competition pool: 50 m long, 25 m wide and 2 m deep. It can hold about 100 people at the same time.
Every swimmer must get a health check and a deep-water certificate before entering the pool for safety reasons, and all these services are available at the place, center management said.
Naja Bluner from Switzerland came up with the idea to swim at the Water Cube when visiting the Olympic Green yesterday. She bought her swimwear, and went through the health check and deep-water swimming test quickly.
"It is very convenient and the staff are really helpful," she said.
Travelers Claudio Saldano and Eraciela Calzolari from Uruguay were amazed by the Olympic venue.
"It is so nice and we saw it many times on TV last year," Saldano said. "We love swimming and swim three times a week at home. We are so impressed by the Beijing Olympic venues and decided we must visit here this year."
This architectural landmark, open for public visits since last October, has become one of the top travel destinations in Beijing. According to the marketing plan, it will become a comprehensive aquatic sports center with swimming, diving and entertainment programs, the center's manager Zhao Zhixiong said.
Large-scale interior reconstruction will start in October and next summer people will see a new Water Cube, he added.
The pool will be open Thursday to Sunday from 2 pm to 7 pm until October. The entrance fee is 50 yuan ($7) for two hours.