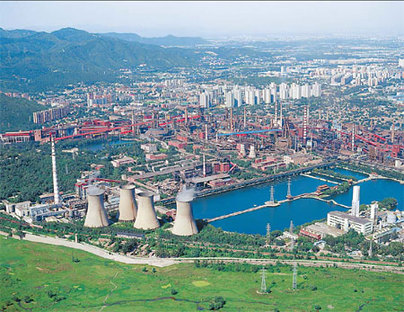 The new Shougang Jingtang Iron and Steel Corp in Tangshan, Hebei province. [File photo]
One turn outside Wang Zhongmin's office stands a lighthouse.
Located right in the middle of the street, traffic skirts it as if it were one of those "garden islands" once ubiquitous in Chinese cities.
The lighthouse is a remnant from the old days when Caofeidian was as big as a basketball court when the tide was in - and the size of a football field when out.
Today the island of Caofeidian is at the heart of a process that can both literally and figuratively be described as "nation-building".
As much as 310 sq km of land will be reclaimed by 2020 after the provincial government of Hebei officially approved the administrative establishment of Caofeidian new district yesterday.
It exercises control over Caofeidian industrial zone, Tanghai county and Nanbao development zone with a total area of 1,862 sq km.
The reshaping of the landmass has been made possible by Mother Nature herself: outside its large shoals lay chasms as deep as 30 m, ideal for building a port that docks 300,000-ton ships.
Wang Zhongmin manages this fledgling port, or the first phase of it.
As executive vice president of Tangshan Caofeidian Industrial and Commercial Port Co, his office has a full wall of windows overlooking the harbor.
When asked about competition with nearby ports, such as those in Tianjin and Qinhuangdao, he laughed: "The port business all over the country is experiencing breakneck growth. Demand far exceeds supply. Even with the fast expansion of facilities, ships still sometimes have to wait for docking. Do you know how much it costs a cape ship - the largest kind - to wait a day? $180,000 for rental.
"So, the building of ports must be reasonably ahead of market needs."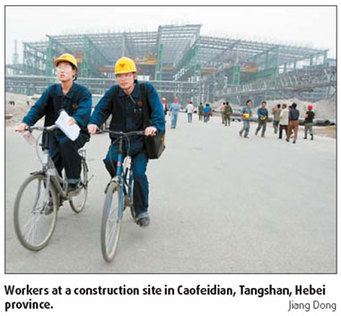 Tangshan Bay
Caofeidian is about 80 km from downtown Tangshan, an industrial city devastated by an earthquake in 1976.
If the city itself is like a phoenix reborn, the coastal area of the municipality is like a new wing that will take the city to unprecedented heights.
Tangshan has a coastline of 198 km, and Caofeidian is the diamond that glitters the brightest.
Heavy machinery is currently sucking up sand from the bottom of the sea, spewing it out to make new land.
On the east side of Caofeidian New Area, a 10 sq km town accommodating 300,000 people is breaking ground.
"It will be the most eco-friendly community ever built," said Zhao Yong, CPC secretary of Tangshan.
Eventually, the town will have 150 sq km with a population of more than a million.
Farther to the east is another "New Area" called Laoting, and to the west is Fengnan Industrial New Area followed by Luhan Economic and Technological Development Zone.
Zhao Yong formulated the strategy of "Four Points Along One Corridor", mapping out the future of not just Tangshan but one of North China's most dynamic engines.
The "corridor" covers 2,143 sq km, with a length of 150 km and varying in width from two to 80 km.
It hugs Tangshan Bay, which is part of the much larger Bohai Gulf.
Zhao's dream is to build it into the equivalent of Tokyo Bay.