Many argue that culture springs from the availability of leisure time, and it shows in Chengdu. Residents in the capital of Sichuan province are known for their love of leisure.
For thousands of years, Chengdu has been a magnet for the nation's culturati. Many great writers have sung the praises of the city and its scenic beauty.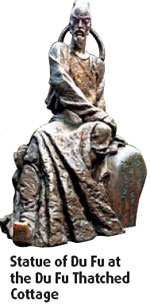 Wangjianglou, a 39-m-tall pavilion by a river inside a park downtown, was built in memory of a poetess from the Tang Dynasty (618-907). Xue Tao (768-832) was a courtesan who socialized with the era's biggest poets. Most of her own writing did not survive, but a striking profile of her can be compiled from descriptions by contemporaries.
Xue Tao made her own paper to write on. A well tucked away in the park is purportedly where she fetched water to hand-make her own writing material. The river was the point of departure where friends saw off each other when embarking on a long journey. Here poets repeated their immortal lines of farewell.
Today parting and reunions are by no means extraordinary. The city is an enclave for free spirits who pride themselves on their exquisite taste. On any given day, a group of scribes might be sipping tea or coffee and talking about the latest trends, or they might get into a hot debate over a hot pot. It is rumored that a significant percentage of the nation's lifestyle columns are penned by Chengdu-based wordsmiths.
Li Jieren (1891-1962) wrote a trilogy that chronicled the tumultuous history of the early 20th century, often with a Chengdu teahouse as its setting. In his writing, you can find vivid depictions of food and cooking. In the 1930s, he opened a family restaurant. He was the chef, using only everyday ingredients, and changed his menu every week. When Ba Jin, another great novelist and Chengdu native, visited Li's old residence decades later, he said that Li was the city's "true historian".
Poet Liu Shahe is also a gourmet connoisseur. He does not have his own restaurant, but he cooks for his writer friends. When he describes local food, readers everywhere want to have a taste. The 77-year-old is also keen on planting trees. He says he likes shadows produced by them on his desk.
One thing Liu Shahe does not share with other Chengdu writers is his penchant for tranquility. He prefers to reading at home than attending parties. But once he makes an appearance, he'll amaze you with his sense of humor. Liu Shahe is actually the pen name for Yu Xuntan, who started his writing career before New China was founded (in 1949). He suffered political persecution for a dozen years, but he got through older, wiser and slimmer. When he returned to the world of creative writing at the beginning of the reform era, it was as if a spigot was turned on and his genius flowed like the current mighty river.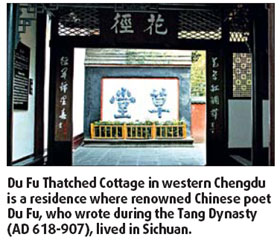 Now, highly respected for his integrity and dignity as well as his literary achievements, Liu Shahe in the last decade broadened his writing from poetry to prose. Readers were surprised to find that beneath the compassion and earnestness of his poetry lies another personality, one of humor and wit.
At the tender age of 16, Wei Minglun suffered the same setback as Liu Shahe. He was branded a "rightist". Wei started as an actor in a local opera troupe, then graduated to director and scriptwriter.
His career went into overdrive in the early 1980s when he churned out one script after another, winning kudos from all around. He got the nickname "Genius of Ba Mountain", a play on the title of one of his librettos.
In late 1980s, Wei ventured into essay writing. He also started his own business. The entrepreneurial Wei is the polar opposite of the Taoist Liu. Wei seeks the spotlight, offering his take on a variety of issues and personalities. The spice in his remarks is most palpable.
The literary scene in Chengdu has always been lively, and each of the figures contributes in his or her own way to the vibrancy of the city.
(China Daily 08/19/2008 page15)