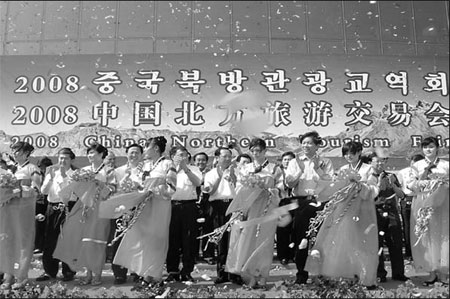 The opening ceremony of the North China Travel Fair.
A pivotal event promoting tourism in China, the North China Travel Fair was held on June 28 in Yanji, a city in Jilin province's Yanbian Korean autonomous prefecture.
Also seen an important forum for regional economic exchanges, the fair is the result of close cooperation and effective interchange between Jilin and neighboring countries.
Among the largest
Initiated in 1996, the travel fair is jointly sponsored by 10 provinces, municipalities and autonomous regions in China's northern regions, including Heilongjiang, Jilin, Liaoning, Inner Mongolia, Hebei, Beijing, Tianjin, Shanxi, Henan and Shandong.
The fair has grown rapidly in recent years to become one of the three largest of its kind across the country.
Delegations from 25 Chinese provinces, municipalities and autonomous regions joined 14 overseas nations and regions attending this year's fair. The event offered 1,023 exhibition booths, with 50 by firms from China's Hong Kong and Taiwan, and countries including South Korea, North Korea, Japan, Russia, Mongolia and Indonesia.
In preparation for the event, Yanbian prefecture and the Yanji city government jointly invested 5 million yuan to upgrade facilities and services.
Wang Zhifa, vice-director of the National Tourism Administration, said at the opening ceremony that the fair has played an important role in promoting regional cooperation and helping the rapid development of the tourism economy in China's northern regions.
With the theme of "exchange, cooperation, openness and development", the fair is expected to enhance tourism between China, those in northeast Asia and other foreign countries.
According to the Jilin Tourism Bureau, the fair hopes to take full advantage of the 2008 Beijing Olympic Games to promote more brand names in the industry.
Changbai Mountain
The Changbai Mountain Administrative Committee held a news conference at the fair to introduce its own tourism festival held from May 30 to October 31.
Jointly sponsored by the National Tourism Administration and Jilin provincial government, the five-month festival has activities ranging from sightseeing and cross-country skiing to camping, trade fairs, folklore performances, bicycle races, car races and other sports events.
The festival aims to present the charms of Changbai Mountain and the province and build Changbai into a world-famous resort that balances ecology and tourism.
While strengthening protection of Changbai Mountain Natural Reserve, the Jilin provincial government has undertaken a series of projects to better serve the area. Construction of Changbai Mountain Airport has been completed and will be operational next month, while new railways around the mountain are being built and a number of new highways are under construction.
Yanbian Korean autonomous prefecture, the host of the travel fair, is located in the Changbai Mountain area.
Bordering Russia and North Korea, Yanbian has the largest population of Koreans in the country, who are noted for their singing, dancing and etiquette.
(China Daily 07/22/2008 page4)