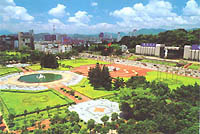 Fuzhou Economic and Technological Development Zone was approved as state-level deveopment zone in January 1985. The zone now has a population of 82,000 and a developed area of 10.1 square kilometers. 
 
Geographical Location
The Fuzhou Economic and technological Development Zone (FETDZ) is located in China's southeast coastal area, 492 and 433 nautical miles away from Hong Kong and Shanghai respectively. FETDZ links the Pearl River and the Yangtze River Delta, and has significant economic influence in Fujian, Zhejiang, Jiangxi, and Hunan provinces. Situated in Mawei, Fuzhou and the estuary of the Minjiang River, FETDZ is the water gateway of Fuzhou, the capital of Fujian Province, and the transportation pivotal of Southeast Fujian. FETDZ is an open-up area integrating a state-level development zone, a bonded area, a Taiwan investment area, and a science and technology park.
Climate
The FETDZ is of a sub-tropical marine climate, with an average temperature of 19.3 centigrade, 326 frost-free days, and precipitation of 1382.3 milimeters.
Communication and Transportation
Harbor
Within the Zone, there is located the Mawei Port, the main body of the Fuzhou Port, one of China's ten major container ports. The Mawei Port is equipped with 13 ten-thousand-ton docks, including 3 container ones and 1 international passenger wharf, with lines reaching over 40 countries and regions such as Japan, the Philippines, Singapore, and Hong Kong, and an annual throughput capacity of 15 million tons.
Road
Mawei features an A-grade highway leading to Fuzhou, and the 104 state highway connecting Beijing and Fuzhou. As a part of China's coastal corridor, the running-through Tongsan highway (from Tongjiang, Heilongjiang to Sanya, Hainan) connects FETDZ to the national highway network.
Railways
The Fuzhou-Mawei Railway links FETDZ to all parts of China, and the planned Wenzhou-Fuzhou Railway will lead to Zhejiang Province from Mawei.
Airport
The Fuzhou Changle International Airport, which sits opposite to Mawei across the Minjiang River, has a designed annual handling capacity of 6.5 million passengers (person-time) and 200 thousand tons of cargo. It boasts more than 40 domestic and international air-routes and more than 260 regular flights per week. The Qingzhou Bridge will provide a shortened 18 kilometers route from Mawei to the Airport.
Human Resources
Fuzhou has over 100 research institutions, 23 colleges and universities, more than 360 general, vocational, and specialized secondary schools, which in all have a faculty of over 60 thousand professionals. More than 10 thousand college and university graduates are available for the city every year, together with other graduates from polytechnic schools and medium or short term training programs. There are over 20 general, vocational, polytechnic , and international schools in Mawei area. In addition, an abundance of university graduates come to Fuzhou for job opportunities from out of the province.
Investment Priorities
Priorities are given to the following industries: newly developed household appliances, multi-media appliances, electronic components, semi-conductors, energy-saving lights, OA equipments, sophisticated apparatuses, machine tools and other equipments, forging machines, medical and clinical devices, precision mechanical parts and moulds, electric motors, automobile parts, complete plants and other mechanical-electrical integration equipments, power generation and transformation equipment and accessories, port, wharf and warehouse accessories, waste water treatment and other environment-protection equipments, new medicines, dyes and reagents, and high-effect low-poison pesticides.
Administration Committee
Tel: 86-591-3682135
Fax: 86-591-3983505
Email:mwwlzx@public.fz.fj.cn
Website:http://www.fdz.com.cn/eng/index.asp
(Source: Ministry of Commerce)