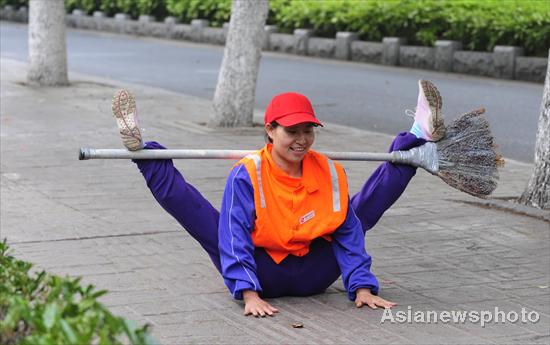 A cleaner twists her legs 180 degrees while holding a broom in Nanjing street, capital of East China's Jiangsu province on May 31, 2011.
Street cleaner Zhang Xiufang earned overnight fame from a web poster where she displayed her unique broom skills. Netizens were impressed by her flexibility and optimistic life attitude, nicknaming her "Auntie Broom". The video gained 30,000 hits online within two days.
Zhang had created a series of broom exercises based on her Tai Chi knowledge, and spread the exercise to her colleagues, encouraging more labor workmates to exercise during their work break. "Street cleaning is exhausting and tough, so the best way to ease muscle is doing exercises with any thing at hand, like the broom," Zhang said.
Her online stardom has earned her the chance to perform on a TV talent show in Nanjing. [Photo/Asianewsphoto]