Tibet exhibition opens eyes in Spain


Tibet has made notable achievements over the past 60 years, and its development reflects the requirements of the social advancements and the fundamental wishes of the Tibetan people, Chinese Tibetologist Pubu Cering said during the ongoing China Tibetan Culture Week on Tuesday.
Chinese Tibetan Culture Week kicks off in Spain
The "2010 China Tibetan Culture Week" was launched here Monday with an exhibition of traditional paintings and colorful pictures of Tibet. Dong Yunhu, deputy director of the Chinese State Council Information Office, said it was the first time a cultural event on Tibet was held in Spain and it was also an important moment of cultural exchanges between Spain and China.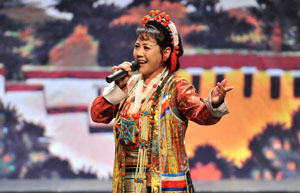 Traditional Tibetan performance in Spain