SHANGHAI - Wang Yunfei, an 18-year-old student from Nantong, Jiangsu province, has won instant fame for an essay he wrote in this year's college entrance examination.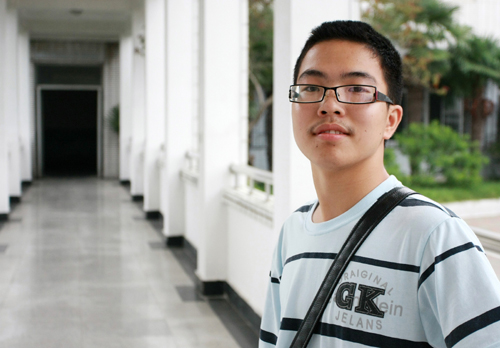 Wang Yunfei, 18, has become known for an essay he wrote in this year's college entrance examination. [China Daily] 
His essay on the environment first stunned the examiners and then caught the attention of the entire nation, for it was written in the long-forgotten classical Chinese language that was used in the Han Dynasty (206 BC - AD 220).
Wu Xinjiang, a scholar of classical literature, was summoned to examine and rate Wang's paper.
Related readings:


 Entrance exam answers leaked in Guangdong


 Easy-access entrance rules differ


 Millions take college entrance exam in China


 Free taxis offered for college entrance exams

After spending a whole day reading and re-reading Wang's essay, Wu declared that it was a perfect piece of Han Dynasty writing, in grammar as well as style.
Wu was also surprised to find that in the prose there were over 40 Chinese words he had never heard before.
Wu later told the media that Wang's writing skills were good enough for a postgraduate student of classical literature.
Despite a lack of original thought or deep insight, Wang's essay was widely circulated on the Internet over the past couple of weeks.
It has also won him admission into the prestigious Southeast University in Nanjing as an undergraduate student of civil engineering, a subject he wished to pursue.
In a photograph supplied by the Rugao High School, where Wang studied, the 18-year-old looks like a typical student, wearing a pair of dark-rimmed glasses and sporting shy smile.
"My prose got 67 out of 70," he told China Daily over the phone. "Maybe I lost 3 points on account of my poor handwriting. I had to write the 800-word prose in 90 minutes."
He said his favorite subject is science. His highest scores in the college entrance exam were in physics and chemistry.
"Classical Chinese is my hobby," said Wang, whose father is a truck driver and mother a farmer.
Wang said he has never had a computer in his home. And unlike his peers who spend most of their spare time surfing the Internet, he devoted his leisure time reading classical books.
At school, he was never considered a promising writer because his unusual style of writing didn't impress any of the teachers.
But he always wanted to write a classical prose in the college entrance exam to "wow" the examiners, Wang said.
"I thought if they fail me for that, I could always try again the next year," he said.
Once he is done with his studies, Wang dreams of being an architect.
"Skyscrapers in all the big cities of China look a lot alike. I want to design something distinctive."
After the college entrance exam ended, Wang traveled to the construction site in Luoyang, Henan province, where his father was working, to see construction workers in action and spent a week observing them.
However, he maintained he will always make time to pursue his hobby. "It's (classical Chinese) already a part of my life, and I love it," he said.
Wang has bought himself a lot of ancient literature books and plans to read all of them before college starts in September.
And quite unlike many teens, who crave for fame, Wang is "upset" that his essay has become a talking point for the nation.
He said the sudden fame has interrupted his peaceful life, as journalists from across the country are lining up to interview him.
"The interviews have taken up the time I wanted to spend reading," he said, adding, "I don't want to be famous."