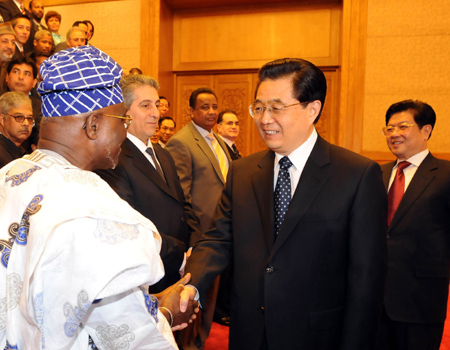 Chinese President Hu Jintao (C) meets with delegates before the opening ceremony of the 2008 International Forum on Economic Globalization and Trade Unions, which opened in Beijing on January 7, 2008. [Xinhua]
Chinese President Hu Jintao said here on Monday that China attaches great importance to sustainable development and will take a series of measures to better safeguard the legitimate rights and interests of workers.
"China is willing to cooperate with the international community to address the challenges posed by the international issues like climate change, environment pollution and energy shortage."
Hu made the remarks in his speech at the opening ceremony of an international forum on economic globalization and trade unions. He stressed China is committed to contribute to the global sustainable development.
The economic globalization brings precious opportunity but also severe challenge to world development. He called on the concerned countries and organizations to make efforts to promote the globalization with balanced, reciprocal and win-win results.
"We should contribute our efforts to create favorable conditions for various countries, especially those developing countries, in the international economic, trade and financial systems," Hu proposed.
He also highlighted the role played by trade unions. They need to promote conditions of improved employment, increased salary and improved social insurance and health care for workers in various countries.
China has the most giant trade union organizations in the world, with about 193 million members in more than 1.5 million grassroots trade unions.
Chinese government highly values the role played by the All-China Federation of Trade Unions (ACFTU), the country's top level trade union. It supports the organization's efforts to expand bilateral exchanges and cooperation with trade unions in other countries. This aims to generate further contribution to promote the long-lasting peace, prosperity and harmony in the world, Hu said.
Over 60 leaders of the trade unions from 24 countries and four international and regional trade union organizations are attending the two-day forum that is scheduled to end on Tuesday in the Chinese capital.
The leaders would deliver keynote speeches and have discussions themed on "sustainable development, decent work and the role of trade union".