China's funniest home videos
By Wang Zhuoqiong(China Daily)

Only a year ago, Zhao Feiyun was an unknown college student studying in Canada. Today the 22-year-old is an online star, thanks to her vlog or video-blog, which has attracted more than three million visitors.
Cheap digital cameras and free editing software and video-hosting services have helped create a vlog boom, catapulting bloggers, such as Zhao, to international fame.
Zhao's vlog "dodolook" is one of the most frequently searched terms on the yahoo China website. As a result of her popularity, Zhao was signed to represent the mop website, a popular interactive website based in China.
The young woman from Guilin, in the Guangxi Zhuang Autonomous Region, made her first two videos for a contest on a website based in Taiwan Province, hoping to win the US$5,000 prize. Soon she had accumulated a large fan base, both in Taiwan and the Chinese mainland.
The warm feedback encouraged Zhao to continue updating her video-blog. Most of the clips were shot in her girlish bedroom, though the content of the videos varies.
In some videos Zhao lip-syncs, in others she shares her personal hobbies and interests. In the "Ms Mei" series, dodolook's most viewed video, Zhao plays a schoolteacher named Ms Mei, and wears different costuming herself in various hats and accessories.
Compared with the versatile dodolook site, the Back Dormitory Boys, also vlog icons in China, have a more specific appeal funny lip-sync videos. Wei Wei and Huang Yixin, both art students at the Guangzhou Arts Institute, made their first lip-sync videos last summer while searching for ways to relive their boredom in their school dormitory. In their first video, Wei and Huang sing along to the Backstreet Boys hit "As Long As You Love Me."
Chinese 'Backstreet Boys'
Wearing matching basketball shirts, the two boys sit next to each other in front of a web cam. In the background, one of their roommates is seen playing a computer game. From this video the Back Dormitory Boys made their name, as well as win over innumerable fans.
White-collar office workers and college students went crazy over the boys' interpretations of pop hits, which the Back Dormitory Boys uploaded to Google Video. Even US actor Edward Norton is a fan.
At the Shanghai Film Festival in June, a reporter asked Norton his views on Chinese film. Surprisingly, Norton replied that he liked the Back Dormitory Boys' videos.
In April, Taihe Rye, a Beijing-based media company, signed Wei and Huang to lip-sing for a stage performance and a television commercial for Pepsi Cola, one of China's largest advertisers.
Video blogging combines two of the hottest Internet trends: video and user-generated content.
Expressive blogging
YouTube, the most popular user-generated video site, had more than 16 million visitors from the United States in July alone and streams more than 100 million videos a day.
One of the reasons for the medium's popularity is that young people, the majority of Internet users, find videos to be more expressive than text or pictures. Moreover, videos can break down geographic and language barriers.
"This is the charm of the video. Its images and voices have downplayed the barriers among viewers in every corner of the world," said Lin Jiashu, a pod caster based in Beijing known as "Flypig," who has a weekly podcast website antiwave.net.
New technology has facilitated the production of vlogs. "Making videos is so easy nowadays," Lin said. Cellphones and digital cameras, in addition to video cameras, can all record video clips. Software like Apple iMovie and Microsoft Movie Maker help users edit videos. Faster broadband speed allows videos to stream more quickly and smoothly than before. For most video-bloggers, vlogging signifies a new way to express themselves and share their experiences and ideas. But as dodolook said in a television interview last month, it's also "just for fun."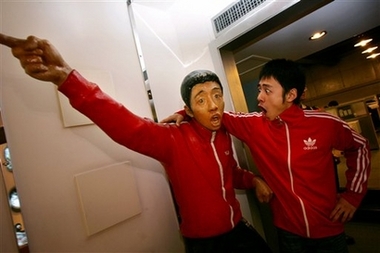 Huang Yixin, right, a former college student from south China who last year found worldwide web notoriety alongside his roomate Wei Wei, not in picture, with their low-quality, high-hilarity lipsynching clips, grimaces at a statue in the likeness of himself as he gets ready to perform one of their famous numbers during a recording session in Beijing, China Dec. 12, 2006. Their mock music videos draw millions of Internet viewers and thousands of fawning reviews by fans who declare them hilarious, talented, cute, and hot. They posted their first 'performance,' a 4.5 minute clip of lipsynching to the Backstreet Boys hit 'I Want It That Way,' to their college intranet in March 2005. It quickly migrated to big sites like YouTube and Google Video and fast became one of the most watched and highest rated amateur clips online. [AP]