Pan Yuliang, renowned for her own model, self-portraits and bathing women, who was condemned as "depraved" in the 1930-40 by conservative officals and art critics in China, now gains her reputation -- a female pioneer painter of western painting.
Pan, originally named Zhang Yuliang, of Jiangsu Province origin, was born in Anhui Province in 1895.
Her parents both died when she was a child. When she was 14, her uncle sold her to a brothel. In 1916, a local customs officer, named Pan Zanhua, bought her out of the brothel.
Thus, she went with Pan to Shanghai to study, renaming herself as Pan Yuliang. In 1918, she passed the exams and entered Shanghai Art School to learn western painting from Wang Jiyuan.
After graduating from Shanghai Art School she went to France to study in Lyons and Paris, sponsored by Pan Zanhua. She was awarded the Roman scholarship due to her excellent achievement in 1925, which enabled her to take further study in the Roman Royal Art Academy in Italy, studying painting and sculpture.
In 1926, her works won the Gold Prize at the Roman International Art Exhibition. In 1929 Liu Haisu invited her to teach at Shanghai Art School while she was in Rome. And she returned to China in the same year.
She held a personal exhibition in Shanghai, honored as the first Chinese female western painting artist. She was also invited to be a professor of the Art Department of the Central University of Nanjing. She gave five personal exhibitions in China from 1929 to 1936.
She left Shanghai for France again in 1937, and settled down in Paris. She was selected by the overseas Chinese artists in France to be the chairman of the Chinese Art Association, and her works were often exhibited in France as well as in Britain, U.S., Germany, Japan, Italy, Switzerland, Belgium and Greece.
Her works were collected by many places including the Paris Municipal Government, the French Miniastry of Education, the National Modern Art Gallery and Cernushi Museum.
In 1959, Pan Yuliang was awarded the Paris Gold Prize and the Belgium Silver Prize. She died on July 22, 1977, in Paris, and her works were sent back to China in 1985.
Her works are now in collection at China National Art Gallery in Beijing and Anhui Provincial Museum in Hefei.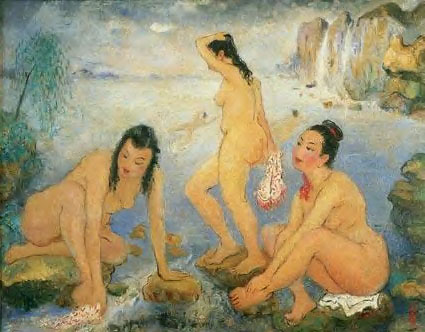 Bathing Women