VIENNA -- The twin mascots for European Football Championship 2008 (Euro 2008) unveiled at a media conference at the Museumsquartier in Vienna on Wednesday.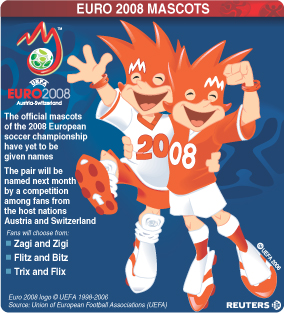 Illustration of the Euro 2008 football competition mascot.
The lovely twins with number 20 and 08, dressed in red and white football strips, symbolizing the national colors of the two joint host countries, Austria and Switzerland, and their bright red, pointy hairstyles indicated that the Euro 2008 would be hold in two alpine countries.
It's the first time that the European Championships chose more than one mascot.
"Mascots know no borders. Neither mascot represents one of the countries, but both represent our united qualities," Friedrich Stickler, Austrian Football Association president said at the conference.
Lars-Christer Olsson, Chief Executive of the Union of European Football Associations (UEFA), said: "The twins shall carry the energetic spirit of the event and it is vital that the fans, and particularly the younger ones, like them."
At the conference, Bruno Schwobthaler, vice-president of Warner Bros. Consumer Products., who designed and created the mascots, said that it had taken 4,000 man hours to develop 100 different figures from which the two mascots were finally selected.
He said that the two mascots, with the number composed of 20, 08, had different characters and tempers.
"Number 08 is a serious, controlled type, and Number 20 represents rebellious, creative.
"They indicate the teamwork, which is also our best wishes for the football players at the Euro 2008," Stickler added.
After the media conference, the two mascots got into a horse-drawn carriage and set off for Vienna's Stephansplatz. From there, an eight-carriage escort of 32 children accompanied the mascots back to the Museumsquartier.
The names of the twins are still open, which would be given by the football fans in Switzerland and Austria through a vote between September 27 and October 8.
Three choices are available: ZAGI and ZIGI, FLITZ and BITZ, TRIX and FLIX.
The Euro 2008 will be hold jointly by Austria and Switzerland, distributed in eight cities in the summer of 2008.
The opening match scheduled on June 7, 2008 in Basel of Switzerland. After 22 days' competition, the final will come out in Vienna of Austria.