A German outsize shoemaker said he will fly to China next week with three pairs of size 57 ladies shoes as a special and much-needed gift for Yao Defen, believed to be the world's tallest woman.
Georg Wessels, who lives in Germany and the Netherlands, said he had spent years trying to track down Yao, who is from a poor farming family in eastern China's Anhui province and 2.36 metres (7.74 ft) tall, according to Chinese doctors.
"I wrote to China to ask her what kind of shoes she would like and in what colour. She answered she didn't care at all what colour they were she would just be so happy to have some proper footwear," Wessels said.
The largest shoes he has made so far were a size 69 for Matthew McGrory, who has the world's biggest feet, according to the Guinness World Records.
Yao, began treatment in June for a brain tumour which is largely responsible for her extraordinary height by stimulating her body to release excessive amounts of growth hormone. [Reuters]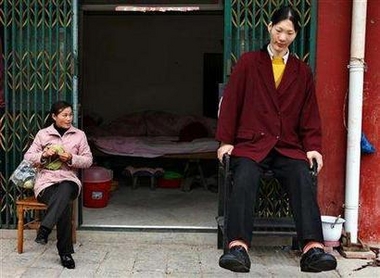 The tallest woman in Asia, Chinese Yao Defen (R), and her friend sit at the entrance of her home in Shu Cha in eastern China's Anhui province March 15, 2006. Yao is 34 years old and 2.36 metres tall, some 10 centimeters taller than the Houston Rockets star Yao Ming. [Reuters]