Maksym Veraksa earned close to half a million euros this week at the Paralympics but he says that helping catapult Ukraine to an unprecedented fourth place in the gold-medal table is priceless.
"When I have the money in my hand, I'll be happy of course, but that's not what I'm thinking about right now," the quadruple gold medalist told The Paralympian on Monday.
"My aim was to come here and top the podium and show that Ukrainians can set Paralympic records and world records and that we are a strong nation."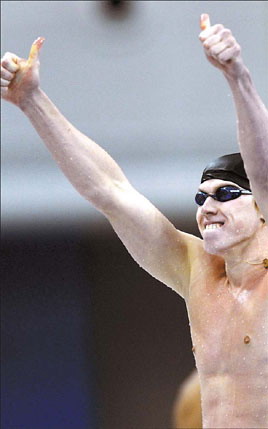 Maksym Veraksa exults after winning the men's 100m freestyle S12 final Friday. [Agencies]
The 24-year-old swimmer, who maps the world solely from a blurry left eye, has over the last nine days racked up a gold-medal haul comparable to that of higher profile swimmers Erin Popovich (4) of the United States and Natalie du Toit (5) of South Africa.
With Ukraine reportedly promising its athletes 100,000 euros for a gold and 50,000 for a bronze, his wins in the 50 and 100m freestyle S12, 100m breaststroke and 200m IM, are, together with his third-place finish in the 100m backstroke, worth a grand total of 450,000 euros ($640,000).
Not bad for a week's work by anyone's reckoning.
Deputy Chef De Mission Karina Matiazh credits the country's Paralympic sporting rise over the last two Games -- it ranked sixth in Athens -- to strong government support, the self-sacrifice of its athletes, sound economic management and a strong mentor overseeing the whole operation.
"Our athletes have been training hard for the last year," said Matiazh, who originally targeted a top-10 finish. "Most of them are full-time, and paid by the state, but even some of those with regular jobs elected to use their holidays to train."
China has topped the Paralympic rankings since Athens 2004 and had an unassailable lead yesterday with 87 gold. Great Britain was second (42) and the United States third (36).
Ukraine was fourth yesterday with 24 gold medals, more or less evenly divided among swimming and athletics, save two in women's power lifting and football 7-a-side.
Considering that the former Soviet state has sent one-third of the athletes (125) China has, and considerably less than Australia and Brazil, it is clearly punching above its weight.
The Australians, who finished fifth in Athens and are currently ranked the same, said they were not surprised to see Ukraine leapfrog them in the standings.
"We're pleased to see them go up because it shows how Ukraine is at the cutting edge of this new development of Paralympic sports worldwide," said a spokesman for the Australian camp, who requested not to be named.
Funding is another matter that Ukraine seems to have under control.
"Our biggest achievement is that we have separate budgets for the Olympics and the Paralympics, whereas most other countries just get whatever bits and pieces are left over from their Olympic budget," Matiazh said.
This practice was put in place by Valeriy Sushkevych, a parliamentarian who kick-started the Paralympic movement in the country of 46 million.
A former swimmer himself, Sushkevych - who uses a wheelchair - heads a government committee responsible for writing laws for the disabled and was the brains behind a national Paralympic center that opened in 2002 and can accommodate 700 athletes at any one time.
"Because of his support, Ukrainian Paralympic sport is now in its prime," said Veraksa, who shaved five seconds off his best time in the 200 IM last Wednesday to pull off a shock win and set a world record by clocking 2 min 12.71 sec.
"He's like a father figure to each of us. You can see him at each event. He's present, and he is worried about each and every athlete, not only the winners but the losers, too."