PARALYMPICS
/
News
---
Wheelchair Fencing: HK fencers dominate
By Lan Tian
China Daily/The Paralympian Staff Writer
Updated: 2008-09-17 10:47
Hong Kong fencers Chan Yui-chong and Yu Chui-yee grabbed a gold apiece from the two on offer at the Beijing Paralympic Fencing Hall on Tuesday.
Chan defeated China's Yao Fang in the women's individual epee B, and later said: "I was very nervous when my rival made up several points to level the score at 11-11.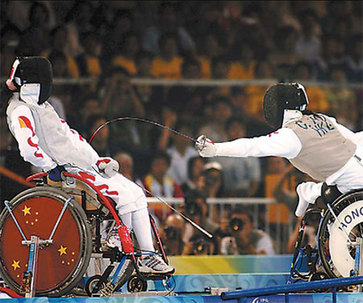 Hong Kong's Yu Chui-yee lunges toward China's Zhang Chuncui during the women's individual epee B wheelchair fencing final Tuesday. Yu went on to win the gold. [Agencies]
"Even when the scoreboard displayed 15 along my name, I couldn't believe I really won the gold."
Sayasunee Jana of Thailand took the bronze, defeating Liudmila Vasilyeva of Russia.
In the women's individual foil A final on Tuesday, Hong Kong's world champion Yu clashed with Zhang Chuncui, just a day after latter had beaten her in the epee final.
This time it was Yu who triumphed, taking the honors with a hard-earned 15-13 win.
"When I was behind at the beginning of the bout, I concentrated on the match and wanted to catch up with Zhang, calmly and step by step. I'm very happy I made it," said 24-year-old Yu, a first year post-graduate student majoring in sports administration at the Chinese University of Hong Kong.
Bronze went to Yu's teammate Fan Pui-shan, who beat Sabrina Poignet of France.
Today, the last two fencing gold medals are on offer the men's individual sabre categories A and B.