After losing two events, So Wa Wai from Hong Kong of China grasped his last chance at the Beijing Paralympics Games.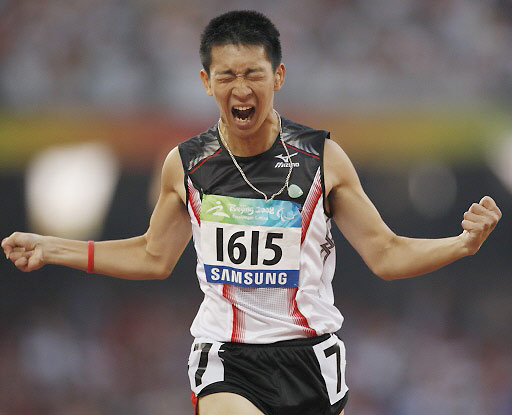 So Wa Wai (L) from Hong Kong of China celebrates after winning the final of the men's 200 metre T36 classification event at the 2008 Beijing Paralympic Games in Beijing on September 15, 2008. [Agencies]
In the men's 200m T36 race on Monday, the defending Athens Paralympics champion crossed the finish line with a world record-breaking 24.65 seconds to win the gold.
Amidst deafening cheers from the crowd, the three-time Paralympian ran in lap, draping a flag of Hong Kong over his shoulders, to celebrate.
"I am very happy that I won the gold medal again and broke my own world record," said So, who, with the new triumph, had a total of six Paralympic golds to his name.
After losing his strong event, the men's 100m, and later a 400m race, the 200m final was still a breathtaking one for So.
The world record holder of the men's 100m and 200m said he was ill before the competition and was not quite in shape. He did not get a good start in the 200m final, his last race in Beijing.
"During the first part of today's competition I did not run at my normal speed but later I pushed myself harder, caught up and won the gold," he said.
The 26-year-old attributed his win to "good luck" and "practice".  But "practice" undoubtedly plays a far more important role in his success.
Born with jaundice, which affected his listening and the balance of his limbs, So Wa Wai had been keen on running from childhood.  
When he was 10 years old, his enthusiasm for running was discovered by coach Poon Kin-lui, who took him under his wing for formal training.
Five years later, their hard work was rewarded with a gold medal at the Atlanta 1996 Paralympic Games. In Sydney, So added three gold medals to his collection, and in Athens, he won his fifth Paralympics gold.
Then came fame and numerous honours including being named the most outstanding Hong Kong youth. But his path was still not a so smooth one.
He almost missed the Beijing Paralympic Games, for his father, the bread-earner of the family, was injured on the job. He was forced to work to support the family.
Fortunately, Andy Lau, a famous Hong Kong movie star, gave him a full-time job with the freedom to train at any time. So made his trip to Beijing at last.
With his latest gold medal in Beijing, So is looking for more. He said he will run on.
"I will always take the advice of my coach, and based on my physical condition, I will keep running and competing," he said.