China-born Sugui Kriss kissed her first silver medal and cheered with her US teammates on Sunday, after the final match of the women's sitting volleyball competition at the Paralympics.
"It's so special to get a silver medal on a traditional Chinese festival day," she said, dressed in her lucky No7 T-shirt.
"It is the best moon cake I could possibly share with my parents.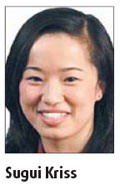 "The special feeling is being here with the US team, playing alongside them and having fun in Beijing," she said.
Sugui was born in Kunming, Yunnan province, but was adopted at the age of 8 by American couple Charles and Marilyn Kriss.
She lost the use of half of her fingers and part of her right foot due to a condition called amniotic band syndrome, a congenital disorder caused by the entrapment of fetal parts (usually a limb or digits) in fibrous amniotic bands while in utero.
Sugui's family lives in New York. Her father is a lawyer and her mother quit her job as a nurse some years ago to look after 6 children, including Sugui and two Indian boys the couple also adopted.
Her parents accompanied her to China.
"We were told that 'Sugui' in Chinese means silent flower, and that exactly was my first impression about my little Chinese daughter," Charles Kriss told China Daily on Sunday in Beijing.
"When I first saw her 13 years ago at JFK airport, Sugui had a small backpack with a few clothes and books that she'd brought from China.
"She couldn't speak any English and left her birthplace lonely and silently," her father said.
"Today, everything is different!"
Sugui surprised her parents by adjusting to her new life quickly and grew up to be a confident girl. She became fascinated with volleyball and became a player in the regular team at high school.
She is better than many able-bodied people when she wears the artificial foot, her father said.
Sugui said she wanted to show she could overcome any difficulty.
"Despite my disabilities, I can do anything I want, so for everybody, just keep going."