CARACAS -- Beijing has performed "perfectly" in organizing and hosting the 2008 Summer Olympics and Paralympics, Venezuela's top sports official said.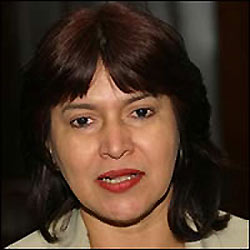 Victoria Mata, Venezuela's sports minister, is seen in this undated file photo. [Agencies]
"China has wished to hold the best ever Olympics and Paralympics, and it has achieved its goal," Victoria Mata, Venezuela's sports minister, said in an interview with Xinhua over the weekend.
Mata said Beijing has honored its commitments to hosting the two games with flawless security operations and volunteer services.
Since the Paralympics, which gathers the best athletes from all over the world, presented the same splendor as the Summer Olympics, both Games  should get equal support and attention from governments, Mata added.
"The development of sports among the disabled reflects the higher tolerance and justice of a society. Despite their disabilities, these athletes have made great effort and sacrifice. They have inspired everyone of us with their strong will and optimistic spirit, serving as good role models even among able-bodied people," Mata said with tears in her eyes.
The minister said she was satisfied with the performance by Venezuelan disabled athletes. With one gold medal and two bronze medals, they have bettered the country's record at the Athens Paralympic Games.
Related readings:


 Nicaraguan sports commentators hail China for Paralympics


 French officials hail Beijing Paralympics


 Paralympic chief hails opening ceremony


 Afghan paper hails China for hosting Paralympics
Nineteen-year-old judoka Naomi Suazo in visual deficiency B3 category won Venezuela's first gold Paralympic medal in the 63 kg category. Sprinter Samuel Colmenares grabbed a bronze medal at the men's 400m T46  and Reinaldo Carvallo a bronze medal in judo.
Mata attributed the good performance of the Venezuelan delegation partly to the government's overwhelming support.
"Venezuela's disabled athletes received training overseas for the Beijing Paralympics. They are given treatment similar to athletes participating in the Summer Olympics in terms of insurance, housing conditions and scholarship," she said.
The Venezuelan government has reportedly invested some 4.65 million U.S. dollars for this year's Paralympics.
The minister expressed the hope that upon their return from Beijing, the disabled athletes could join social programs to help other disabled people in the country.