Pal Szekeres' cries of joy got louder after each and every point against younger, more powerful rivals on Sunday.
So well-known and scrutinized is the 43-year-old Hungarian, who has won medals at both the Olympics and the Paralympics, that opponents almost anticipate his every move.
But the veteran fencer said his courage kept him in contention and helped him to a hard-earned bronze medal.
"My secret? My Hungarian blood," said Szekeres, who got the medal in the men's individual foil category B on Sunday afternoon at the Fencing Hall of the National Convention Center.
It was the sixth Paralympic medal of his career 16 years after his first, in men's foil, in Barcelona.
He had previously won a bronze with the Hungarian team at the 1988 Seoul Olympics.
"It is still fencing, whether you are standing or sitting," said Szekeres.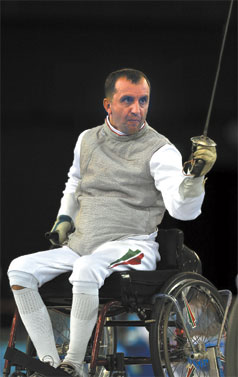 Hungarian fencer Pal Szekeres prepares for the fight against China's Hu Daoliang during a match in the wheelchair fencing men's individual foil category B semifinal yesterday. Szekeres lost 4-15, and Hu won the gold later in the final. [China Daily]
"For me, it's the same success either as an Olympian or a Paralympian. I'm a fencer and I'm proud of my Olympic bronze and my Paralympic medals.
"I am no longer strong, but I am stronger than the others in the heart," said Szekeres, who chews gum during competition and jokes that it's his own form of "doping".
Before each point, the veteran places his feet firmly into the slots of his wheelchair, his long white sporting socks always neat.
After clearing the group stages on Sunday, Szekeres defeated Japan's Yoyoaki Hisakawa in the round of 16.
He then beat defending champion Hui Cham Hung of China's Hong Kong to reach the semifinals.
But China's Hu Daoliang finally stopped him with a score of 15-4.
"He's a great athlete," said the 28-year-old Chinese, who later won his maiden individual gold in this category.
"Today, I was just fencing better than him - that's all."
In the bronze medal match, Szekeres came from behind to defeat Ukraine's Andrii Komar 15-10 and the Hungarian threw his helmet away to celebrate.
"I was very happy with the bronze. I promised myself a medal," he said after his bout.
Twenty years ago, Szekeres was a member of the Hungarian team that won bronze in the team foil event at the Seoul Olympics.
But a minibus crash during a trip from Germany to Hungary after a World Cup competition in 1991 left both his legs paralyzed; and he thought his fencing days were over.
But then Szekeres met two people who would change his life.
"When I was in a German hospital, a Hungarian coach was working with the German wheelchair fencing team. He called me to try wheelchair fencing and I went," he recalled.
And it didn't take long for him to become Europe's best.
His long-lasting passion for fencing also gave Szekeres a family after he met his wife, also a fencer, in 1991.
"We were under the same coach and in the same club. We met in 1991. I love her more than anything," said Szekeres, who will also compete in the men's saber on Wednesday, the closing day of the Paralympics.