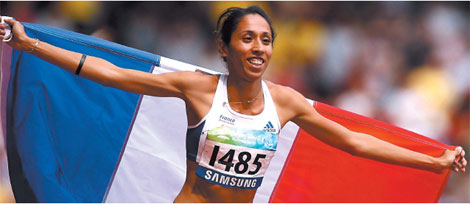 Assia El'Hannouni of France celebrates after winning gold in the women's 400m T12 yesterday. Xinhua
A Paralympic gold and a world record are the sweetest of rewards for Menggen Jimisu and her proud coach, who has been instrumental in developing sports among people with a disability in Inner Mongolia.
In the women's discus F40 yesterday, Menggen set a world record to win her first gold medal.
"I was a bit nervous at the beginning, because it is the first time I'm competing in the Paralympics," said the 17-year-old Menggen, who out-threw Tunisian Raoua Tlili and Moroccan Najat El Garaa .
"I'm very excited to win on home soil. I'm happy that my training paid off."
Born with a disability, Menggen was brought up by a poor family of herdsmen.
She was selected three years ago by Paralympic gold medalist Hasilao to attend a sports training base for people with a disability in Erdos, Inner Mongolia.
"Although the training is a little bit tough, I still love sports," she said.
"I was brought up by my grandmother and experienced a lot of hardship. I believe winning the gold medal will have a great influence on my life."
Menggen is also the pride of coach Hasilao.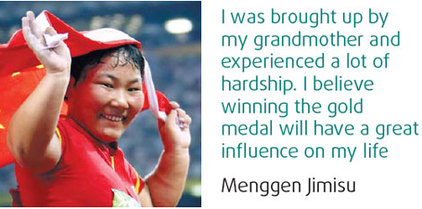 "I feel extremely happy that my student won gold," said the 37-year-old Hasilao, who is also taking part in his fourth Paralympic Games as a thrower in discus and javelin F44.
"Menggen trains hard and is the first Paralympic champion from our training base."
After suffering a disability in his left leg because of a medical accident at the age of 16, Hasilao, who previously had excelled in middle- and long-distance running at school, began training as a disabled athlete.
He claimed a gold medal in the men's F44 javelin at the 1996 Atlanta Paralympics and a silver and a bronze in the following two Games in Sydney and Athens.
Returning from the 2004 gala, Hasilao wanted to set up a training base to help more disabled people live better lives.
"Sport has changed my life and I know that there are still more disabled people in my hometown who need to improve their lives," Hasilao said.
"With the help of the local association for the disabled persons and the local sports bureau, I set up the training base, which is the first in my hometown."
About 10 students currently train at Hasilao's base, several of whom have won national championships.
"This time at the Beijing Games I may have little chance of winning since I was ill before the Games and not in my best form," he said.