Strapped from the waist down, only her arms were free to pedal her bike - but it was enough.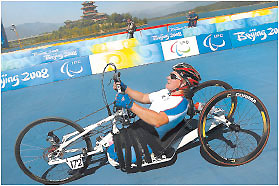 Briton Rachel Morris rides to gold in the women's cycling road individual time trial HC A-C categories at the Beijing Paralympic Games September 12, 2008. [xinhua]
Briton Rachel Morris spun her way to gold in the women's individual time trial for handcycling in the HC A-C class Friday at the Beijing Paralympics.
"The course was fantastic to ride," said the 29-year-old athlete, who took up the event only two years ago. "It was technical, very fast. It was quite hard to climb, so that was a challenge. I did my best, and I am completely satisfied with this result. It's a dream come true."
Held in northwest Beijing, it was the second Paralympic appearance for the 12.7km road cycling event after it made its debut in Athens. Since it made its appearance nearly three decades ago, handcycling has opened a new vista for athletes with severe lower limb disabilities.
But the sport has its fair share of challenges, the main being severe discomfort.
"It's quite uncomfortable lying flat on the bike," seven-time Paralympian Heinz Frei from Switzerland told The Paralympian.
The 50-year-old athlete, who recently added handcylcing to his list of sport, now has 13 Paralympic gold, after triumphing Friday in the men's individual handcycling time trial for the HC B class.
American Oz Sanchez, who won the men's individual handcycling time trial for the HC C class, uses a kneeling bike, which means he has to sit on his knees while racing.
"It took me four to five months before I could get on my knees," said the veteran from the US Marines Corps. "It's a complete upper body workout. You have to use the biceps, neck and even your cheek muscles. Everything from the waist up is all part of it."
Some athletes like Germany's Dorothee Vieth, who won bronze in Morris' race, are lucky enough to be able to switch between a flat bike and a kneeling bike for different courses.
"I first tried lying down on this course, because it causes less wind (rushing) against me. But then my shoulders hurt too much, and I didn't know what the conditions would be here. So I went for the kneeling bike, which is more suitable for climbing roads," Vieth said moments after her race.
But despite the obstacles in the way, nothing prevents a true handcyclist from pursuing the sport, Sanchez said.
"Where there's a will, there's a way," he said. "If you want to be successful in any sport, it's not a matter of comfort."