Spectators were treated to a rare and remarkable scene in powerlifting at the BUAA Gymnasium Wednesday.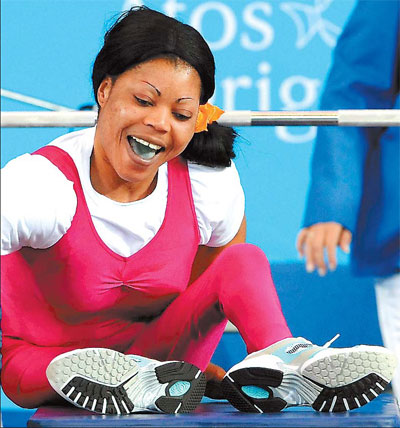 Nigerian powerlifter Lucy Ejike smiles after breaking the world record of 130kg to win the gold. [Xinhua]
On her first attempt, Nigerian Lucy Ejike smashed the world record in the -48 kg. Then she set another.
"I planned on breaking world records today," said the two-time Paralympic gold medalist and holder of four records with her victory in Beijing.
The other two records were set in the -44 kg in Athens 2004. She bettered her personal best records Wednesday, albeit in a higher category.
Clad in a pink jersey and long ponytail, the 30-year-old in a wheelchair was feeling confident during the competition.
"I was feeling lucky with bright colors," she said, smiling. "Pink is my color."
The West African appeared calm before her first attempt of 125kg, which exceeded the previous world record set by China's Bian Jianxin by a whopping 7kg. She did it with ease, with enough time remaining to chat with referees and wave her index fingers to the crowd.
On her second attempt, Ejike raised the weight by 5kg, setting another record at 130kg. It was another easy lift, and spectators, shouting from the stands, loved every minute of her performance.
Her third attempt, at 137.5kg, failed, but it didn't matter to the crowd. They roared loudly as Ejike hugged her coach.
"The first attempt was to take the lead. The second was to go for the records," she said. "The third was to entertain the crowd."
In the women's -44 kg category in Athens, Ejike charged the world record three consecutive times, smashing each and dominating gold with a record of 127.5kg.
"I set a world record, broke it, set it again, and broke it again," said Ejike, who was a silver medalist in the -44 kg category at the Sydney Paralympics. Ejike then finished behind Egypt's Fatma Omar, who Wednesday won the women's 56kg and set a new world record with 141.5kg.
Ejike, who began training in powerlifting shortly before the Sydney Games, said the secret to her success was discipline and hard work. She's already planning for the London Games.
"I will move up another category, and set a new record," she said.
If she moves up to the -56 kg category, and Omar stays in the same, the London Paralympics will witness another titanic showdown between the pair.
Nigeria has been dominating powerlifting in Beijing with a rich haul of gold medals. On Tuesday, Ruel Ishaku took gold in the men's -48 kg with 167.5kg and set a new world record of 169 kg.