For Kirsten Bruhn, competing with swimmers more than a decade younger is tough -- but that didn't stop the 38-year-old from making the podium last night.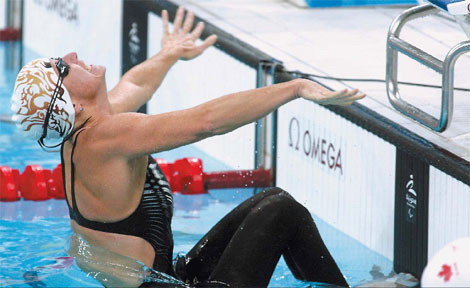 Kirsten Bruhn of Germany on her way to silver in the women's 100m backstroke S7. The gold went to Katrina Porter of Australia. [China Daily]
The German won silver in the women's 100m backstroke S7, her second medal of the Games after a bronze on Monday.
"I have so many emotions at these Paralympic Games. To compete at my age is very difficult. I am nervous and sometimes even want to cry," Bruhn told The Paralympian.
"At first, I couldn't relax in the water, I had to find my rhythm. But I am happy with the result," she said.
Bruhn was selected as one of the worldwide Paralympic ambassadors earlier this year due to her sportsmanship.
The honor gave her an additional incentive to promote the Paralympic Movement among young people with or without disabilities, Bruhn said.
"We need to go to schools and kindergartens to get them together and let them get to understand each other and have a better attitude towards life," Bruhn said.
The daughter of top swimmers who later became coaches in Germany, Bruhn took up swimming at age three but a road accident during a mountain cycling trip in 1991 left her with partial paraplegia. The tenacious woman never bowed to fate and soon resumed swimming as part of rehabilitation therapy.
"I feel a kind of freedom in the water," she said. "Anyone watching me swim in the pool would never think that I could possibly have a disability."
She started competing in 2002 and reached the pinnacle of her swimming career in Athens, where she won one gold, two silver and one bronze.
Now she is focusing on her next three events. She says she want to compete in the 2012 Paralympics as well, but says she needs to take it one step at a time.