BEIJING - It doesn't matter how many world records tumble in the "Water Cube" Olympic Aquatic Center. The Paralympic moments belong to those who are fighting destiny and creating miracles.
BIG NAMES
Three days, three events, three gold medals.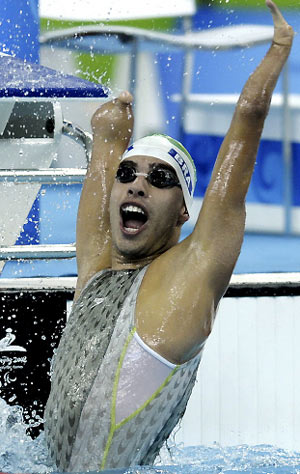 Brazilian swimmer Daniel Dias celebrates after winning the men's 50m backstroke S5 final during the 2008 Beijing Paralympic Games at the National Aquatics Center in Beijing on September 8, 2008. [Agencies]
Brazilian Daniel Dias has become one of the biggest names in the pool at the Beijing Paralympics.
After grabbing two golds in men's 100m freestyle and 50m backstroke S5, Dias picked up a third in his favorite 200m freestyle Tuesday evening.
The 20-year-old led throughout the race and touched home first with a brand new world record of 2 minutes 32.32 seconds, shaving a shocking 5.40 seconds off his old world mark.
"I'm very happy for one more good result and for breaking another world record. I feel very tired but it was worth it," he said.
"I didn't use all of my energy during the heats in the morning, so I had more energy for the final. There's been a lot of training, from Monday to Saturday, even on holidays. Now all these paid off," added the winner, who will have four events to go in the following days.
THRILLING VICTORY
The closest race of the day came from the women's 100m freestyle S10 final. Poland's Katarzyna Pawlik, who updated the world record to 1:01.60 in her heat, swam the fastest first lap in the final but was surpassed by Ashley Owens with a strong spurt in the final 10 meters.
The in-form American touched the wall first, beating Pawlik by just 0.02 seconds and shaving a 0.03 of the Polish world mark.
"Oh my god! Oh my god! Oh my god! Oh my god!" screamed the girl, who couldn't believe her eyes.
"I didn't know I'd got it. When I looked up, I was like 'Did I get it?'. Then I looked up and saw myself on the screen and knew I had won. Words can't describe it. I got myself a gold. My goal was to get a gold medal and I did it." said the American.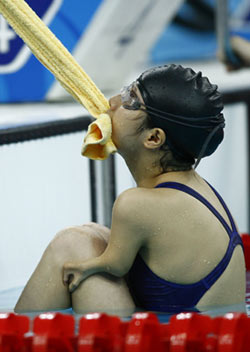 Jiang Fuying of China gets help to start in the women's 100m backstroke S6 final during the 2008 Beijing Paralympic Games at the National Aquatics Center in Beijing on September 9, 2008. Jiang Fuying won the bronze medal. [Xinhua]
HIGHTLIGHT OF DAY
An emotional highlight of the day came from host swimmer Jiang Fuying. Without both arms, Jiang swooped down like a dolphin to take the women's 100m backstroke S6.
Jiang blew the roof off the Water Cube when she led the lanes most of the time but only to be overtaken 25 meters from the wall by a swimmer from the Netherlands. Jiang lost the gold, but touched a lot of hearts.
"It is a little disappointing. But I think I've done my best. I lack experience and had too much pressure to have a good rest. But I believe what others can do, I can do as well. I will keep fighting," said Jiang.
The Water Cube witnessed 12 world records tumble and produced 16 gold medals. But China's swimmers failed to see a top podium finish in their six events of the day.
After three days of competition, the United States led the swimming tally with nine golds, followed by Brazil with five and Spain four. Host China stood eighth with two.
The Beijing Paralympic swimming competition has attracted 560 athletes to its 81 men's and 59 women's events. The nine-day contest runs from September 7 to 15.