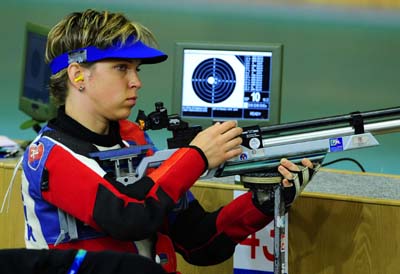 Slovakia's Veronika Vadovicova competes in the  women's 10-meter air rifle standing SH1 final in Beijing, September 7, 2008. [Xinhua]
BEIJING -- Slovakian shooter Veronika Vadovicova won the first gold medal of the 2008 Beijing Paralympic Games on Sunday.
Vadovicova collected 494.8 points from women's 10-meter air rifle standing SH1 event, taking a distant lead from the silver medalist, German Manuela Schmermund, who chalked up 490.2 points.
The bronze was won by Nilda Gomez Lopez from Puerto Rico with 489.2 points.
Impressing spectators with her stable performance in the qualification round, Vadovicova, who was gold medalist in 50-meter sport rifle three positions at the 2006 World Championships, topped the list of eight finalists with 392 points, or one point below the Paralympic record.
In the 10-shot final, the 25-year-old on a wheelchair further pulled away from her rivals by scoring all of the first nine shots above 10, including a highest score of 10.8 in the fourth shot.
Before the last shot, she had already enjoyed a comfortable lead of 5.2 points.
Although she finished with 9.5, the gold medal had already fell into her pockets.
"I think it was good though it was my lowest-scored shot in the final," said the joyful champion, who has attended the Paralympics twice before the Beijing tour.
Defending champion Schmermund and 49-year-old Lopez, the only shooter from Puerto Rico, told spectators the meaning of "never giving up" with their performances.
Ranked fourth and fifth with 388 and 387 points respectively in the qualification round, the pair chased hotly in the final, especially Lopez, who surged to the fourth after the sixth shot.
After the ninth shot, she was still the fourth, closely following Australian veteran shooter Libby Kosmala with a 0.2-point deficit.
In the decisive last shot, Kosmala fired first. A 10.1. While Lopez managed to get a 10.4, edging her Australian rival with just 0.1 point.
"This medal is my first in five Paralympic Games and I'm the only shooter (from Peurto Rico). It means a lot," Lopez said.
While Schmermund said it was "incredible" to stand on the podium again. "I could have been better in the qualification round. I'm glad that I got a good score in the final," she said.
However, the 66-year-old Kosmala, oldest athlete on the Beijing Paralympic shooting range and a 10-time Paralympian, also grabbed spotlight and gained appaluses with her sharpness.