BEIJING - Without impassioned leaps and stunning pirouettes, a Chinese teenage amputee, wearing a red ballet shoe on her right foot, staged an amazing wheelchair ballet Saturday evening to deeply move the cheerful audience with her endless ballet dream.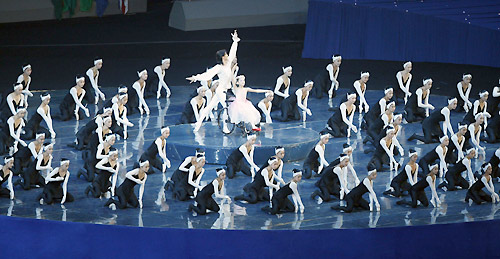 Li Yue (C), a 12-years-old victim of May 12 Wenchuan earthquake, stages a ballet at the opening ceremony of Beijing 2008 Paralympic Games in the National Stadium, September 6, 2008. [Xinhua] 
Four months ago, the 11-year-old Li Yue was a promising ballet student in China's southwestern Sichuan province, bearing in mind a beautiful dream of becoming a ballerina. However, the devastating May 12 earthquake cost her left leg, but never cut off her pursuit of ballet dreams.
When a dazzling firework display kicked off the three-hour extravaganza of the Beijing Paralympics at the National Stadium, better known as the Bird's Nest, Li burst into bright laughter at the dressing room, relaxing herself a little bit for the long-awaited moment to perform her favorite ballet.
The ballerina girl had dreamed thousands of times to dance in front of such an ecstatic capacity of over 90,000 spectators, but never expected to be in this way.
At around 10:00 p.m., the whole audience held their breath to see the beautiful girl appear on a wheelchair at a small stage located at the northern stand in the stadium, wearing pink tights, garland and a red ballet shoe on her right foot.
To the magical blend of dreamlike scenery, music and costumes, she started to perform elegant gestures and smooth movements with arms and fingertips. Her slim body twirled gracefully with rhythmic steps and motion.
Some one hundred disabled dancers formed circles surrounding her, wearing pink ballet shoes on their hands to "dance" on the floor. They flew their arms and postured different ballet movements together with Li. As the music grew louder, the group dancers rose and fell in turn, rowing in waves with arms and fingertips.
Later on China's leading ballet prince Lu Meng stepped on the stage to perform a pas de deux with Li, carrying her to "float" about the stage. Her particularly secure balances and the last gesture of sitting high on Lu's shoulder drew bravos from the whole audience, and even turned them into tears.
The spectators applauded enthusiastically, waving luminous props to form glittering stars.
"The dance was amazing. I was deeply moved and inspired by the strong will of the girl," said Jeffrey Tiessen, who used to be a Paralympian and now runs the Canadian Disability Today Publishing.
Li was the only survivor of her class after her school building collapsed during the May. 12 earthquake that left over 80,000 people dead or missing. It was when rescuers almost gave up hopes of any more trapped victims after 40 hours' search efforts, that Li cleverly used her electronic watch to blip light signals up through the huge pile of collapsed concrete to alert them.
However, the most horrendous but ultimate decision had to be made -- either her life or her leg. Rescuers wept but had no choice but to amputate her leg to save her.
The fragile girl drank almost a bottle of vinegar to take the amputation operation, and survived all the agonies with her braveness and perseverance. Buried under huge debris for over 70 hours, Li was finally saved.
The leg amputation, however, did not bring her promising dance career to an end. The bright looking girl, who had endured tremendous inner suffering, never gives up her pursuit of ballet and pursuit of dreams.
"The massive earthquake shocked the world, and people nationwide were concerned over the relief efforts and reconstruction of the disaster areas. When we heard about the story of Li, we were quite moved and decided to invite her to join the opening ceremony performances," said Zhang Jigang, executive director of the opening ceremony.
The ballet dance has reflected the strong spirit and optimistic life attitudes of the disabled people, he said. "We hope to help realize her ballet dream, and also convey our support and care to people of the disaster areas."
Li was overjoyed by the good news of dancing at the opening ceremony, and rehearsed very hard from morning till midnight everyday. Sometimes, she was too tired and even fell asleep on her wheelchair. But when she woke up, she was always cheerful and devoted to her favorite ballet dance.
The teenager inspired the whole world audience with not only her graceful dance Saturday evening, but also her strong spirit to overcome misfortunes of life. Her ballet dream never has an ending.