The massive effort to clear the skies over Beijing for the Summer Olympics paid off, the city's environmental authority said Monday, with the capital seeing its cleanest air in a decade.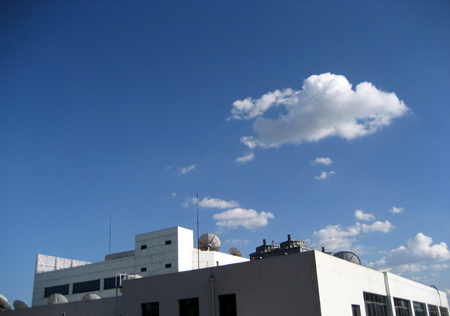 Clouds float in the clear blue sky in Beijing, August 31, 2008. Clear air, clean water and safe food, among all other good things, left local residents with not only an "exceptional" Olympics but a keen concern about the Games' "green legacy" which featured blue skies.[chinadaily.com.cn] 
The Beijing Municipal Environmental Protection Bureau said that the improvement in air pollution was mainly the result of special, and temporary, measures that closed factories and banned cars from the roads during the Games.
The clear weather appears to be continuing into September, with clear blue skies that have allowed a rare glimpse of Beijing's western hills, which are usually obscured by smog.
The environmental bureau said in a notice on its Web site that the density of major pollutants was cut by 45 percent in August. It said there were 14 days with the best air quality, "excellent" or level 1, and only one day rated at the worst quality, or level 3.
Some months typically have less than a handful of days with level 1 air quality.
"This is the best quality in the past 10 years," the statement said, referring to the 45 percent reduction.
The city's air pollution was a major concern in the months leading up to the Olympics, but the worries largely evaporated as the games began under relative blue skies.
"Temporary measures to reduce pollution that were put in place in Beijing and surrounding provinces to guarantee clean air for the Olympics played a fundamental role in improving the air during the Olympic period," the bureau said.
Levels of major pollutants like sulfur dioxide, carbon monoxide and nitrogen dioxide fell to levels normally found in cities in developed countries, it said.
Beijing typically has air that is two to three times more polluted than in most Western countries. City officials shut down scores of factories, stopped almost all construction and removed two million vehicles from the roads for a two-month period that will last from July until after the Paralympics end on Sept. 17.
The vehicle restrictions, which limit cars to being able to circulate every other day based on odd and even license plate numbers, have brought many in Beijing to debate whether the policy could be continued.
But critics say it does not counter the root problem of pollution and will be ineffectual given that 1,000 new cars are added to Chinese roads each day and given that a rising number of families are buying second cars. Taxis and buses are also not covered by the restrictions.
Still, 56 percent of the more than 10,000 people surveyed online said they were in favor of continuing the restrictions.
Wang Li, deputy director of the Beijing Traffic Management Bureau, was quoted as saying by state media on Aug. 23 that there had not been a decision over whether to continue the policy.
But an editorial last week in the Beijing News daily newspaper said a continuation of the policy faced many challenges, especially from car owners and government officials reluctant to give up their freedom to drive.
"Whether people will stand for a continuation of the restrictions is a test of how socially responsible our country's middle class is," it said.