More than 400,000 Beijingers have joined an online discussion about whether to keep a pre-Games car ban.
Nearly half of them supported a permanent car restriction -- an alternating odd-even license plate system from July 20. While the others, mostly car owners, opposed.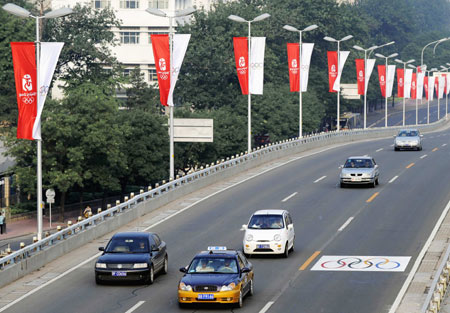 Cars with even number plates run on road in Beijing, in this July 20, 2008 file photo. [Agencies] 
GREEN LEGACY
Clear air, clean water and safe food, among all other good things, left local residents with not only an "exceptional" Olympics but a keen concern about the Games' "green legacy" which featured blue skies.
"I support a long-term car restriction. We have made some mistakes in the past. Now we should correct them and return blue skies to our children," wrote a netizen named He Luzhu in the forum on www.ynet.com, the portal site of Beijing Youth Daily.
Air pollution and jammed traffic emerged key problems in 2001 for Beijing's bid to play host the 2008 Summer Olympics, said Sun Daguang, vice secretary of Beijing 2008 Olympic Games Bid Committee.
The host city's seven-year efforts to minimize pollution were highlighted by the relocation of a gigantic steel company, and the car ban that rested nearly 2 million, or one third of the city's vehicles, as taxis, buses and other public-service vehicles were exempt.
"The sky was high and blue during the Olympics. It's so much better than those foggy days," said a repair worker surnamed He, who took 4 to 5 hours every day riding a bicycle to visit his clients.

PAIN EASER OR PERMANENT CURE
People who opposed a long-term car ban argued it was a pain easer rather than a permanent cure.
 "Only after the government makes great progress on improving public transportation should we discuss whether to keep the car ban. I love blue skies very much. But I had to drive a car because I could not stand packing in a bus for six hours a day," said an anonymous netizen.
Official statistics showed the city's roads were extending at an annual rate of 3 percent while the number of vehicles was increasing at about 15 percent per year.