PARALYMPICS
/
News
---
Expert forecasts clear or cloudy skies for Paralympic opener

Xinhua
Updated: 2008-08-31 10:35
BEIJING -- The Beijing Municipal Meteorological Bureau forecast that it will be mainly clear or cloudy on the Beijing Paralympic opening day of September 6, the Beijing Times reported on Sunday.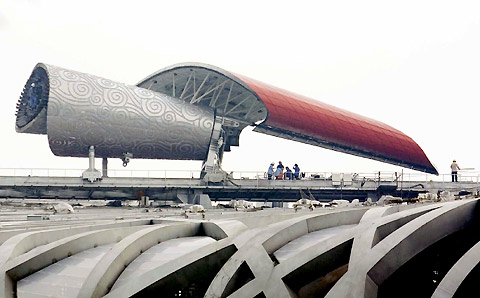 Workers have a check atop the National Stadium or "Bird's Nest", August 29, 2008,  before the upcoming Paralympics. The Paralympic flame will burn at the "Bird's Nest" on September 6 till the end of the Games. [Xinhua]
Beijing Municipal Meteorological Bureau expert Sun Jisong was quoted as saying that the weather condition would be generally favorable for the Paralympic opening ceremony. The temperature on that day would range between 19 and 29 degrees Celsius.
Sun also said Beijing would see two rainfalls in the first five days next month. The Beijing Municipal Meteorological Bureau would provide a detailed weather forecast for the September 6 opening ceremony some time in the upcoming days.