Securing a place as a world power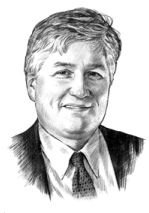 Jon Taylor, professor of political science and director of the public policy and administration master's program at the University of St. Thomas, Houston, Texas

Editor's Note: The Communist Party of China will hold its 19th National Congress on Oct 18. In the runup to the meeting, China Daily asked four prominent experts to provide their views on developments in China and the country's global leadership.
What do you think about the current influence of China in the world?
China's rise has been a force for good. The return of China to the world scene after 1978 is one of the most significant events in world politics since the end of World War II. Since reform and opening-up began in the late 1970s, China's success in lifting over 700 million people out of poverty has been one of the greatest policy achievements of the past 50 years. Both developed and developing countries alike can draw from China's model of development, which has seen China move from a marginal player in global trade to the world's second-largest economy in the span of less than four decades by emphasizing structural reforms, infrastructure investment, political cohesion, inclusive development, and policy pragmatism.
China has demonstrated that its influence is through a sense of shared global responsibility and a desire to play a greater global role. This has translated into a willingness to take a prominent leadership role in championing economic globalization in opposition to calls for protectionism from voices in the West.
How do you evaluate President Xi Jinping's performance as a leader?
I would evaluate his performance quite favorably. Under Xi's leadership, China has engaged in numerous successful political and economic reforms that have focused on securing China's place as a major world power. He has put China on a path to pursue win-win economic development and cooperation, combat corruption, and alleviate poverty. He has been the most visible, most traveled, and most poised leader that China has seen in quite some time.
Xi can rightly be viewed as both a modernizer and a reformer who has done a superb job in providing authoritative leadership and political stability while expanding China's international prominence. He has expanded China's influence as a great power by dynamically combining China's diplomatic, financial and engineering resources into initiatives such as the Belt and Road Initiative, BRICS Plus, and Made in China 2025. He has also reasserted China's place as a major world power by pursuing policies and programs aimed at modernizing and reforming the military while defending China's national security interests, expanding its contribution to global governance through regional and international security, UN peacekeeping operations, anti-piracy efforts, humanitarian assistance, and disaster relief.
One of Xi's greatest successes has been to promote China as a major contributor to global economic governance, thereby laying the groundwork for Chinese leadership on global economic integration.
What do you think about the future of China?
I'm hopeful. China is rightly ambitious. It is rightly asserting itself as a major world power. China stands on the verge of greatness, but that does not mean it is bent on global domination. Its interest lies in developing markets, procuring materials, and encouraging investments, both foreign and domestic.
In less than 70 years, China has transformed itself from a war-ravaged, impoverished, and inward-looking nation to a wealthy, globally engaged, and forward-looking nation. Since reform and opening-up in 1978, China has demonstrated that it can be both flexible and resolute in pursuing national prosperity and power. Based on this, China's people have every right to be optimistic about their country's future.
What three words would you choose to describe China today?
Vibrant, fun and inspiring.
What is the biggest challenge that China is facing and how should it deal with it?
Some of the biggest challenges facing China are furthering and deepening supply-side reform, maintaining economic stability, cutting both air and water pollution, keeping home prices under control, preserving the renminbi's value, combating corruption, and confronting the demographic pressures that have arisen with both an aging population and internal migration of labor.
My advice would be to remember that China remains a developing country and that its market reforms are incomplete. Meeting the challenges will require strong political leadership that will maintain social stability while pursuing deepened reform. My advice would also include support for greener growth, shifting China to a more sustainable energy path and promoting sustainable agriculture practices.