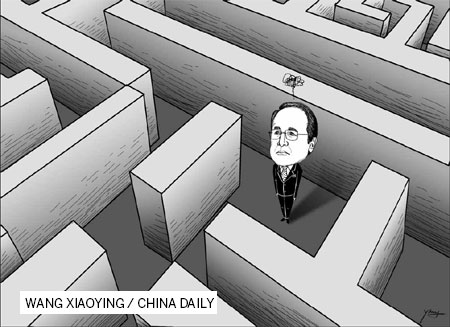 Rarely has an election resonated so widely across the European Union as the French presidential ballot has done. Rarely has a leadership change in one EU member state created expectations of a real policy shift.
Remarkably, a new European identity and public sphere are emerging from the debt crisis. Europeans are recognizing how interdependent they are. One country's failure can threaten the entire European economy, and can call into question the fruits of 60 years of integration. Peace, solidarity, and prosperity are not irreversible achievements; only 27 countries working together can guarantee them.
Francois Hollande's victory is a fresh chance for Europe. It should spell the end of a policy oriented exclusively towards austerity, which has paralyzed our economies and divided the EU. The new French president's commitment to a European growth policy has brought hope to citizens, and should not alarm anyone, certainly not the financial markets.
Hollande's plans for a growth initiative fall on fertile ground, especially in the European Parliament, which has repeatedly called for such measures. I am delighted that this message is increasingly echoed by the political mainstream, including most recently by European Central Bank President Mario Draghi. Likewise, the European Commission is working on a "growth pact" to be discussed by EU leaders in June. Indeed, Europe needs a master plan to avoid a tailspin of recession, growing unemployment, and weakening banking systems.
A new master plan for growth will not be about printing money. Fiscal discipline remains essential, as are deep structural reforms. The growth pact can be properly financed by new sources of revenue, such as a financial-transaction tax and joint project bonds for infrastructure investment, or by curbing tax evasion and tax fraud and eliminating tax havens, as well as by more efficient and intelligent use of structural funds.
So what is to be done? First, targeted investment should be given priority. The European Investment Bank would be a good vehicle - in addition to new project bonds - to boost spending on major infrastructure projects, for example, in the energy sector. The EIB could be given significantly more resources to boost its loan programs. In the longer-term, we should revisit the idea of joint Eurobonds.
Channeling EU structural funds towards innovation is essential, given that spending on research and development is alarmingly low compared to our global partners. Fundamental reform of the Common Agricultural Policy should not remain a taboo. Indeed, the CAP is ensuring neither sustainable agriculture nor decent incomes for all farmers. Undoubtedly, tough negotiations lie ahead on this front, including with Hollande.