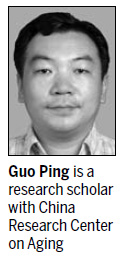 The expression "raising average life expectancy by one year" first appeared in this year's Government Work Report. But many people don't know the exact meaning of raising average life expectancy from 73.5 to 74.5 years that is one of the specific objectives of the 12th Five-Year Plan (2011-2015).
Guo Ping, a research scholar with China Research Center on Aging, says life expectancy is a widely accepted index to evaluate the health status of people of a country or region based on the life table. Generally, it uses census data and death registrations to calculate the prospective life span of people, because it is very difficult to track the "birth-to-death" journey of each and every citizen.
Genetic factors notwithstanding, social stability is theoretically the prime influencing factor of average life expectancy. Economic development, accompanied by improvements in the fields of medical treatment and public health, has a significant impact on average life expectancy, which can be demonstrated by China's experience.
According to Chinese Health Statistical Digest figures, the average life expectancy of Chinese people before the founding of New China was only about 35. One of the reasons for that was the high rate of deaths during the wars. By 1957, Chinese people had an average life expectancy of 57 as a direct result of social stability, a factor also evident in the postwar experiences of other countries such as India, Guo says.
Chinese people's life expectancy continued to increase with social progress and economic development. e Ministry of Public Health's data, based on Sample Survey on Population Changes in 2005, shows average life expectancy in China is over 73 years, more than double of what it was before 1949.
Average life expectancy in China has increased dramatically, he says. In the early 1950s, average life expectancy in China was about the same as the world average (about 46.5). But by the end of the 20th century, it had increased to about 71, or four years more than the world average. It is still rising, though the rate of increase has slowed down.
Statistics show that from 1990 to 2000, average life expectancy in China rose by 2.8 years, and from 2000 to 2005 by 1.6 years. Considering the growth trend and China's rapid economic growth, raising average life expectancy by one year during the 12th Five-Year Plan period is not a difficult task, Guo says.
Lauding the government for making "raising life expectancy" one of the objectives of the 12th Five-Year Plan, he says life expectancy is not only a direct indicator of people's health, but also closely related to their level of satisfaction and social recognition.
Research results show that most of the people judge social welfare more according to their feelings and less on the basis of official data. For instance, according to a three-year research by Guo and his colleagues in rural areas of western and central China, farmers want governments (at various levels) to provide them tap water instead of giving them direct subsidies in the form of money.
"Public services should be aimed more at increasing people's satisfaction level," Guo says, "us governments should pay more attention to what will ultimately make people happy rather than just giving them financial subsidies."
It is difficult to increase people's average life expectancy by just improving health services because other factors also play important roles in the process. To raise average life expectancy across the country, social sectors at all levels have to work together not only to make policies, but also to implement them.
Guo says governments should ensure that social development keeps pace with economic development during the 12th Five-Year Plan period, and that the authorities pay more attention to providing better public services to people, especially improving social security and healthcare.
The quality of public service in the countryside is comparatively low, and there is a lot of room for its improvement. Rural people, especially senior citizens, lack necessary guidance in healthcare. ey need to get regular checkups and adequate medical security. "e government's priority, therefore, should be to improve healthcare in rural areas to the level available in cities," Guo says.
But further increase in life expectancy is bound to increase the aging population, which in turn will add to the burden of individuals and society as a whole. By the end of last year, the population of senior citizens above 60 had reached 167 million, or about 13 percent of the country's total. By 2050, their population is estimated to be one-third of the country's total.
The pressure of aging population has even forced the authorities to consider changing some social policies such as increasing the retirement age. But Guo says such measures are "somewhat passive" and far from enough. Instead, he says the government should take "active" measures to deal with the issue. "e key is to promote 'active aging' and extend people's healthy life to the greatest extent."
Extending people's healthy life or active years will improve the quality of their life and minimize their "inactive" years when they need greater amounts of social resources and family care. is is a better way of tackling the aging population problem. As a start, Guo says the government should improve heath education and disease prevention, promote lifestyle changes and make physical exercise an integral part of people's daily regimen.