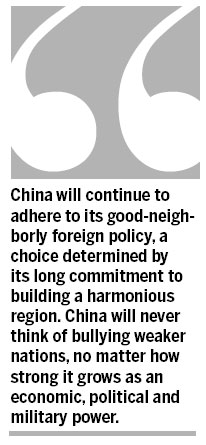 But China will never pose a threat to any other country, and it will never be part of or trigger an arms race
The successful test flight of J-20, China's new-generation fighter, on Jan 10 is a significant achievement for the country, especially for its defense industry. It is a symbolic leap in the country's military modernization drive, too.
Yet there is no reason for China to be excessively conceited or complacent. It should not forget the huge gap between it and Western developed countries, led by the United States, in terms of military armament and weaponry. More importantly, it should remain highly vigilant against the possibility of some countries using the J-20 fighter as an excuse to stoke a new round of "China threat" frenzy.
Well before the J-20 was flight-tested, rumors over China's stealth fighter were rife in some countries. Speculations flew high after the news of the test flight was confirmed, with some saying that the J-20 was Beijing's "present" to US Defense Secretary Robert Gates during his just-concluded visit to China.
Some Americans have said that Washington's security would weaken if it still deployed only 187 F-22 fighters. And some Japanese have forecast that the J-20 would break the established balanced military order in Northeast Asia, and said that it would take some practical measures to prevent that from happening. Robert Gates even made public his wish to sell the US' fourth-generation fighters to its Asian ally, that is, Japan.
China is a responsible country and has long been keen on developing smooth diplomatic and military ties with the US. It had planned the J-20 test-flight much earlier; it's just that it coincided with Gates' somewhat surprise visit to the country. The test flight was by no means an exhibition of China's military strength. It is thus ridiculous for some Americans to allege that the J-20 was China's "present" to the US defense secretary.
China, however, has to pay enough attention to such views, especially to allegations that the J-20 fighters will constitute a threat to other countries and could even trigger an arms race in the region. It is important for China to refute such groundless charges if it wants to prevent vested interests from sabotaging the external environment for its peaceful development.
The development and possession of moderate military hardware are justified privileges of a sovereign country that wants to safeguard its national security and ensure smooth economic development.
The Chinese government is committed to building a prosperous society and a powerful military. But this commitment does not mean China is trying to establish its hegemony or is turning belligerent. Making efforts to build a strong military does not mean China poses a threat to other countries. Of real importance are the strategic intentions and military policies China will adopt and the way it will exercise its military power.
China will continue to adhere to its good-neighborly foreign policy, a choice determined by its long commitment to building a harmonious region. China will never think of bullying weaker nations, no matter how strong it grows as an economic, political and military power.
China has already seen three decades of unprecedented economic growth and diplomatic development since it launched its reform and opening-up in the late 1970s. But they have not made it waver from its peaceful foreign policy.
On the contrary, its success on the economic and diplomatic fronts has made its peaceful resolve even stronger. It has chosen to lend a helping hand to countries in its neighborhood and beyond. One solid example of this was its assistance to some countries and regions during the 1997 Asian financial crisis. China is committed by principle not to use its military power to seek hegemony.
But freeing the US of its worries is not an easy task. Despite its absolute military supremacy, Washington has long been on a high alert against any external threat to its long-established superpower status. As the US shifts its strategic focus to China, Sino-US military ties are likely to plunge into a restive "security dilemma".
The peaceful development path that China has chosen and its defensive national defense policy pose no threat to any country. It is normal for any country to try and upgrade its military and weaponry to safeguard its national security.
China develops and produces weapons and military equipment for self-defense. It has the right to safeguard its sovereignty, security and territorial integrity. And there is no reason for other countries or regions to feel threatened.
Chinese leaders have on innumerous occasions made it clear that China is opposed to hegemony and military expansion, and it will under no circumstances be part of or trigger an arms race.
The author is rear admiral and former head of strategic studies at the National Defense University of the People's Liberation Army.
(China Daily 01/15/2011 page5)