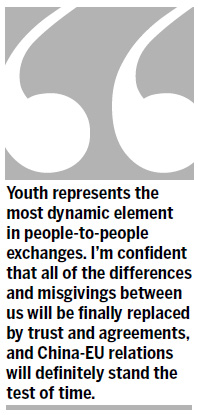 China-EU Year of Youth is a golden opportunity for younger generations to abandon outdated ideas, bias and stereotypes
I am excited to attend this opening ceremony for the China-EU Year of Youth, and witness this important moment that will surely go down in the history of China-EU relations.
The Year of Youth is the first theme year event jointly organized by China and the European Union, and this landmark event will open up a new chapter for our people-to-people exchanges.
Over the last 35 years since we established diplomatic ties, cooperation between China and the EU has demonstrated huge progress both in terms of quality and quantity. With economic and trade cooperation yielding substantial returns, China and the EU have become each other's most important trading partner. Underpinning such strong ties is our ever-growing political mutual trust, evidenced by frequent high-level visits and closer coordination on international affairs. Today China and the EU are more than just trading partners. We are also strategic partners who share a similar destiny, rise to the common challenges, and work together for a prosperous future.
At this time, when China and the EU are both in the key stage of development, our comprehensive, strategic, and mutually beneficial cooperation is increasingly picking up momentum from a new historical starting point. Whether this momentum can be sustained and grow from strength to strength will depend on whether or not we can gather understanding and support from our peoples. In this connection, people-to-people exchanges have an irreplaceable role in ensuring that our bilateral ties will fulfill their historical mission and bring durable benefits to both peoples.
Youth represents the most dynamic element in people-to-people exchanges, because they are the ones who will create the future. Both leaderships strongly support and have high expectations for this Year of Youth event. Behind the major political decision to launch such a large-scale program are the strategic visions of our leaders and their ardent wish that efforts like this will increase mutual understanding and friendship between our younger generations.
In my view, young people shoulder an important responsibility to promote the healthy, sustainable and long-term growth of China-EU ties. There are three areas where I think youth can make a difference.