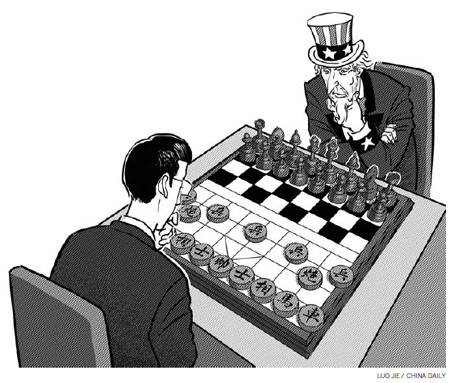 Beijing and Washington both are gearing up for President Hu Jintao's meeting with United States President Barack Obama later this month. The high-profile meeting will mark President Hu's first state visit to the US since April 2006 - and the first since the Obama administration took office.
Chinese officials have described the upcoming meeting as "very important" and said the discussions would "enhance dialogue, strengthen mutual confidence and expand and develop cooperation". US officials have voiced hopes for "tangible results" from the negotiations.
But most analysts agree that ties between the two governments are strained. One does not have to look far to find evidence in support of their argument. A prominent US foreign policy analyst once said: "Where you stand depends on where you sit." This observation applies to the troubles that now plague Sino-American relations.
The US complains about China's "predatory trade policies", "neo-mercantilism" and "undervalued currency". From Washington's perspective, Beijing's "unfair" economic policies hurt the American economy and contribute to its high unemployment.
But others see things differently. Chinese decision-makers say that many of America's economic woes can be traced to Washington's irresponsible fiscal policies. Not surprisingly, they look at American "advice" with skepticism. For example, officials warn that a dramatic revaluation of the Chinese currency will destabilize China and be "a disaster for the world" without helping the US economy in any way.
Tensions on the Korean Peninsula are certain to be at the top of the security agenda when Hu meets with Obama. Washington is outraged by recent actions of the Democratic People's Republic of Korea (DPRK), including the shelling of Yeonpyeong island on Nov 23, renewed efforts to pursue a uranium enrichment program and the suspected sinking of a Republic of Korea's warship in March.
The Obama administration has demanded that China "do more to pressure" the DPRK. But Beijing has voiced a preference for the resumption of multilateral negotiations and dialogue, rather than harsh rhetoric, threats and high-profile military exercises.