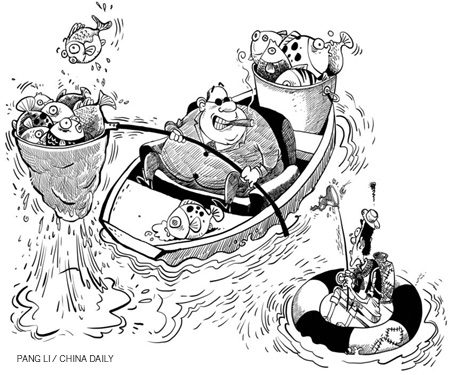 China has the highest number of billionaires in the world, according to the just released 2010 "Hurun Rich List". The report details interesting and positive trends regarding Chinese billionaires.
Unlike previous years, a majority of China's 10 richest people made their fortunes outside of real estate. Flavored drinks magnate Zong Qinghou, of Wahaha, tops the list, followed by pharmaceutical tycoon Li Li and China's richest woman, "Paper Queen" Zhang Yin, of Nine Dragons Paper.
Just two of this year's 10 richest people made their money solely in real estate.
Moreover, 95 percent of the billionaires on Hurun's list got rich by carrying out their business in the domestic market. This fact, coupled with the new trend, in which property magnates are being replaced by consumer goods producers, may herald the start of the much needed rebalancing of China's economy toward greater reliance on consumer spending.
According to the Hurun report, Zhang Yin is the world's wealthiest woman. The second and third richest women are Chinese too, as are 11 of the global top 20.
These numbers reflect the huge difference New China has made in the lives of Chinese women. Though many people may think women still lag behind men, women are now not only expected to work, but can also be ambitious in their career choices.
In fact, a study done by the Center for Work-Life Policy in New York shows that China's women are the world's most ambitious, with 76 percent aspiring to get top jobs, compared to 52 percent in the United States. Thanks to the family planning policy and inexpensive child-care provided by grandparents - four grandparents for one grandchild - these women are better able to put in the long work hours needed to realize their dreams.
While most really wealthy people in the US have made their money the old fashioned way, namely inheriting it, China's billionaires are self-made individuals. Just 1 percent of them inherited their fortunes, while many of them such as Zhang Yin grew up as poor children.
As the number of billionaires in China increases, so does its socio-economic inequality. Does this inequality threaten China's stability? I suspect that it will not, as long as most ordinary Chinese continue to believe that they too can aspire to be wealthy and the country's economy enables large numbers of them to do so.
The Chinese government must play its part, too, to help the less affluent achieve upward mobility. Although a good start has been made in easing healthcare burdens on less affluent families, especially in rural areas, this safety net is still inadequate. Educational opportunities for poorer children need to be increased. Plus, the hukou (household registration) system has to be reformed to ensure that China's high labor mobility doesn't separate working parents from their young children (Beijing will have to help localities financially to cope with hukou reform).
Finally, the recent flap over the visit of Warren Buffet and Bill Gates, two of the world's leading billionaires, to encourage philanthropy illustrated that most of the super-rich Chinese lack a sense of benevolence.
Tax policies, particularly estate taxes, need to be devised to stimulate charitable activity among China's super-rich.
Such policies will help prevent China's wealthy class from turning into a self-perpetuating oligarchy. Many Chinese have followed Deng Xiaoping's famous call: "To get rich is glorious." Now China must ensure that humble people, too, could aspire to become rich and no one wields excessive power.
The author is an American corporate trainer in China.
(China Daily 10/21/2010 page9)