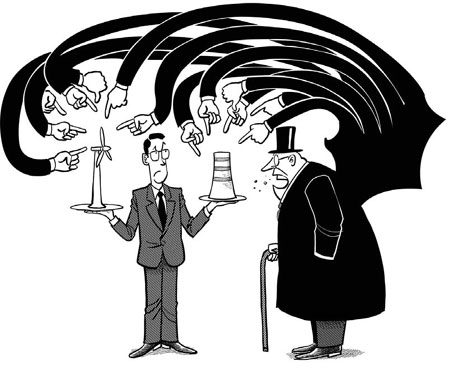 There are reports of fairly frequent blackouts in some of China's provinces, especially Hebei, which almost encircles Beijing. Some of the reports detail the inconveniences caused, and the conflict between cutting power supply to manufacturers (to lower production) and to households, which involves social costs and discomfort.
For uninitiated observers, such as most Western journalists and their readers, this may be no news or plain "rustic mismanagement". In fact the deliberate reduction of power supply is part of a concerted national effort to limit energy consumption, negotiated between the central and provincial governments.
China's attempts at self-deprivation are worth taking note of. Of course, we still see examples of drivers taking a nap or resting in their cars with the air conditioner on, and other slovenly wastage. But admirable national policies are being implemented slowly and surely against inertia. It is not strange for newly arrived Westerners, or those ensconced in comfortable urban pads to see the problems and overlook the work in progress.
There are still some huge gaps in understanding between the West and China, and the miraculous three decades of China's development has given rise to serious pains among the Chinese as well foreigners. It is necessary to read between the headlines on one issue: China has overtaken or is about to overtake the US as the country with the most voracious appetite for energy. But it seems Chinese and US nationals both have failed to do so.
Wall Street Journal reporters interviewed the International Energy Agency (IEA) chief economist in a New York hotel and were told that preliminary 2009 estimates of total-oil-equivalent consumption showed China was above the US. For the Western media, this became a stick to beat China with. What the media deliberately neglected to state is that renewable wind and solar energy and hydro-electricity had been added with oil and coal. No wonder, there is zero acknowledgement for China's advances there. Also, China's per capita energy consumption is still one-fifth that of the US.
The IEA website headlined the news in a way that suggested China was overtaking the US as the largest energy consumer. But then it softened the rhetoric, and even added a paragraph to say China had made "such progress" in curbing energy intensity (energy per dollar of output) and in becoming a world leader in renewable energy technologies.
A headline that did do justice to China's frenetic endeavors in research and development in alternative energy technologies was in the Sept 8 edition of The New York Times. Though critical of "aggressive government policies" on clean energy initiatives, including special deals for some entrepreneurs, reporter Keith Bradsher lauded China's booming clean energy sector that would help slow global warming.
A linked article quoted an US decorated Vietnam veteran as having said that he had to move, though reluctantly, his patented solar panel operation to China because US policies were too restrictive.
Driving a wedge between what China is doing well and where the US has lost its way are extreme views such as those of James P. Hoffa, who accuses China of playing "dirty tricks" on clean energy (Huffington Post, Sept 13). Hoffa is the president of the US' most powerful union and has earned the favor (and gratitude) of hundreds of thousands of US workers, who find it easy to believe that China is stealing their jobs.
In the same paragraph Hoffa says that 250 million Chinese take a shower with water heated by solar panels, whereas in America fewer than 1 million do so. He seems to be trying to say that the Chinese make solar panels cheaply (and Americans do not?). One would think that in the interest of energy efficiency and reducing emissions, the use of more solar panels by China would be worthy of praise.
But Hoffa plays to different audiences. Writing for an industry magazine, Today's Machining World, on Sept 3, he said the Chinese have "suckered" the US into disadvantageous trade bills, and "we've been stupid enough" to become its victims.
Fortunately there are visionaries in the Barack Obama administration who do not blame or criticize China's efforts to promote new energy-efficient technologies, and are keen to cooperate, allowing the two nations to exploit their comparative advantage.
There is now an overriding paradigm shift in global energy/emissions issues. After World War II, the US emerged as a powerful country and economy. It won the war with the help of nuclear bombs, which ended Japanese resistance. It acted nobly in the first ever large-scale aid grant under the Marshall Plan to rebuild war-torn Europe and Japan.
The US made the dollar a universal currency to enhance global trade and even bought gold for $73 an ounce for two decades before being weakened by oil trading in the Middle East. It invented and developed the Internet. It's economy is more than three times the size of the next biggest (China). But it has over-consumed and over-borrowed to foster an unsustainable lifestyle using today's technologies.
The US is no longer head and shoulders above its global neighbors. When it comes to energy consumption, Americans guzzle 8 tons oil equivalent per capita per year. Hence, blinkered critics are invited to appreciate the part of China that rations power supply to keep energy use and production within limits and does everything possible to meet its environmental targets.
The author is an Australian research scholar collaborating with academic and commercial institutions in China.
(China Daily 09/28/2010 page9)