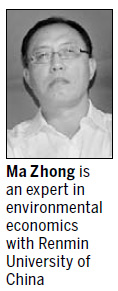 One after another, factories are moving from China's coastal cities to its western regions seeking lower costs. Following them are heavy road traffic and large urban crowds. Some overseas observers call it the "flying geese paradigm", first used to describe Asian economies taking off one after another after Japan. In China, cities in inland areas are busy turning themselves into copies of coastal manufacturing towns.
But wait a minute, says Ma Zhong, an expert in environmental economics with Renmin University of China in Beijing: "Let's think whether the coastal towns' model is the best example for the western regions to follow, because it may not suit quite a number of places there."
There is no denying that the western regions need development, and need it badly. And given the central government's determination and financial power, they will turn out stronger GDP results. But in some places, the ecology is "so fragile" and public services "so inadequate" that the coastal towns' manufacturing-led model cannot be applied without creating costly wastes and disasters, the economist-turned-environmentalist warns.
"It's a mistake to think a model suited to a city in the Pearl or Yangtze river delta in eastern and southeastern China could be applied to the vast but different environment of West China."
The government has to adopt a different model, if not models, to balance economic growth and environmental protection in those areas, Ma says, after delivering a speech at a recent seminar of journalists, who specialize in environmental reporting, in a hotel tucked in Hangzhou's scenic lakeside.
"It's not just a regional issue. It's a national issue. For, West China is where the Yellow and Yangtze rivers originate. Once the rivers' precious sources are polluted - if development is not handled with due care - they will pollute most of China's waters and harm these trees and bamboos," he says, pointing to the lush green environs outside the window.