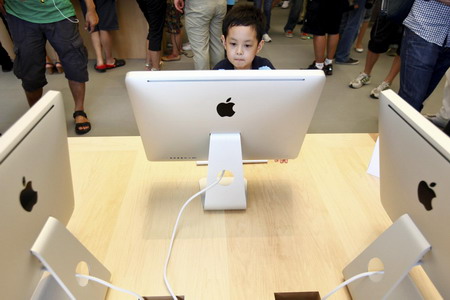 A boy looks at an Apple iMac desktop computer at the new Apple Store in Pudong Lujiazui, in Shanghai July 10, 2010. Apple Inc. opened its second flagship store in China, in the heart of Shanghai's financial district on Saturday. [Agencies]
Chinese consumers have to pay premium prices for the foreign-brand products assembled in China, the Los Angeles Times reported on Tuesday.
The newspaper perused a gamut of foreign products made in China -- Apple's laptop, Sony's flat screen TV, Buick LaCrosse sedan, Nike sneakers, Budweiser beer and Haagen-Dazs ice cream -- finding an ironic paradox that they actually cost 20 to 40 percent higher here, frustrating China's notoriously frugal customers.

According to the article, A likely lead-up to the price reversal is China's economic model, which is "geared almost exclusively toward production rather than domestic consumption". "For example, U.S. manufacturers have long complained that the Chinese government keeps the value of its currency, the yuan, artificially low."
Taxes and levies may be another reason, said the article. The factories may get a rebate on value added tax, if they exported the products while Chinese consumers have to pay the import tariff for the imported products.

Also worth noting is some foreign companies' conscious decision to raise their prices in China as a marketing strategy to lure aspiring consumers who feel like they're buying a piece of the middle class, said the newspaper.
Another factor that the report cited in driving up prices has to do with the painstaking task of moving goods around the vast country that lacks a national logistics system. And freight carriers are often reluctant to travel across provincial borders due to local toll station fees, adding to the distribution agony.